Feb. 15, 2016 Update: Read about PACT for Animals in this Philadelphia Inquirer article.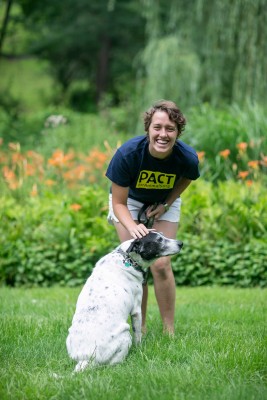 After nine months apart, Maya, a shepherd mix, sprints across the grass to greet her owners, who have just returned from an Army deployment. Maya's tail wags frantically as her owners pet and hug her to say hello.
This joyful reunion was made possible by PACT for Animals, an organization that finds temporary foster homes for deploying service members and hospitalized individuals.
Tirsa Delate '16 has been helping PACT fulfill its mission since early 2015. Tirsa first started at PACT through Bryn Mawr's Community Based Work Study Program and has been able to continue working with the organization this summer through the Summer of Service Program.
"As someone who had a dog for a long time, I understand how important these relationships are to people so working for PACT has been a wonderful experience," says Tirsa. "But it's also been a very valuable experience in terms of allowing me to hone a number of skills."
A fine arts major at Haverford with a concentration in photography and a minor in film studies, Tirsa has been producing and editing videos for PACT and has done some event photography. She's also done administrative work involving outreach and as a volunteer coordinator.
"I've been able to use my existing talents with the video and some other media work but this has also been a great opportunity to build upon my organizational skills and many of the other things that are important in just about any job or career," says Tirsa.
"Bryn Mawr is a place that encourages you to take the initiative as well as develop your leadership skills. These qualities have been further cultivated and challenged in the most positive way at PACT," she adds.
As she enters her senior year, Tirsa concedes that there were times when she wondered if she made the right choice in attending Bryn Mawr.
"For my first two years I was still trying to figure out my own particular niche," says Tirsa. "But I've loved being at a women's college because there is that focus on pushing the boundaries placed on women. You can have conversations about feminism and the patriarchy and people don't see it as anything out of the ordinary."
Tirsa points to her London study abroad experience at the Slade School of Fine Arts during the fall of her junior year as the moment things started to click for her.
"Going abroad was the best decision I ever made," says Tirsa. "And being away from Bryn Mawr for that time actually helped me take a step back and gain a better perspective for this last year and a half here."
While she plans to continue to work with PACT in the fall, Tirsa will also be busy working on her senior show, which may be centered on self-portraiture.
"I want to use photography as a platform to explore gender on a universal and personal level that addresses the societal and patriarchal expectations that are pushed particularly on women," says Tirsa. "For my senior show, I'll be using my body in connection to natural, domestic, and institutional spaces to discuss different representations of gender and how that relates to my identity and sexuality. I also want to incorporate video into my show to create a more ubiquitous and three dimensional experience."
Tirsa is excited to return to Bryn Mawr for her final year and see where her passion for photography and filmmaking, as well as her work at PACT, takes her.