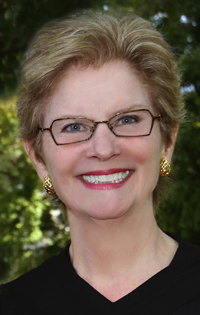 Former Bryn Mawr President Jane McAuliffe was recently named the Director of National and International Outreach at the Library of Congress, where she has served as the director of the John W. Kluge Center since October 2014.
The new service unit will include the Kluge Center and the Office of Scholarly Programs as well as the National Library Service for the Blind and Physically Handicapped; the Center for the Book, which includes the Library's Poetry and Literature Center and its Young Readers Center; national digital initiatives; the Federal Research Division; FEDLINK; the World Digital Library; the Library's Publishing Office; its Business Enterprises division; its Interpretive Programs Office; its Educational Outreach/Teaching with Primary Sources staff; its Visitor Services Office; its Special Events staff; and intern and fellowship programs.
The unit will also oversee the Library's National Book Festival and its Gershwin Prize for Popular Song; the national boards and registries for film and recorded sound, which yearly select 25 films and 25 sound recordings to be preserved for posterity; and the Library's presence at conferences.
In May, McAuliffe was awarded an honorary doctor of laws degree by the University of Notre Dame, where she gave the Commencement address to the degree recipients of the university's graduate school.
April saw McAuliffe elected to the American Academy of Arts and Sciences. Since its founding in 1780, the American Academy has served the nation as a champion of scholarship, civil dialogue, and useful knowledge. Its membership includes many of the most accomplished scholars and practitioners worldwide.
During her Bryn Mawr presidency, McAuliffe championed global women's advancement, initiating partnerships with other universities and colleges, convening international conferences on campus, helping create the Women in Public Service Project, expanding the college's international enrollment threefold and formulating The Plan for Bryn Mawr, a new strategic vision for the college.