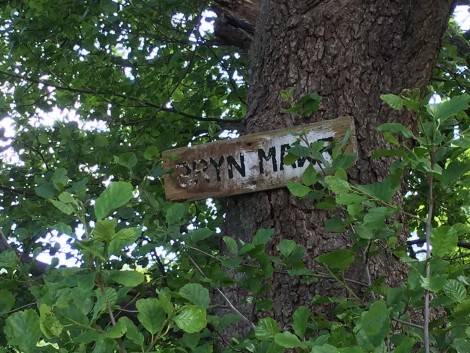 Associate Professor of English Kate Thomas, who teaches and writes about Nineteenth Century British Literature and Culture, recently led a group of alumnae on a tour of Wales. Thomas and the alums were joined on the tour by Associate Professor of English Bethany Schneider.
While there, the group visited the place from which the town of Bryn Mawr directly takes its name.
Rowland Ellis, Quaker owner of the Bryn Mawr farm in Wales, immigrated to Pennsylvania to escape persecution in 1686 and built what we now call Harriton House, which still stands, right behind English House.  Harriton is a working farm and Thomas has taken students there as part of a food studies course.
Visit this page for more about Ellis and Harriton House.
See below for additional photos from the original Bryn Mawr farm, as well as an image (actually two images stitched together) of Thomas and Schneider unwinding after the tour in a Wales pub.
To find out about upcoming tours sponsored by the Alumnae Association, visit their website.