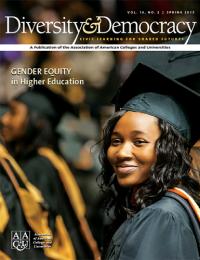 An article in the latest issue of Diversity & Democracy highlights Bryn Mawr's "Enhancing Computation and Information Science Learning Opportunities for Women Leaders in STEM" project.
The project is part of the Association of American Colleges and Universities TIDES (Teaching to Increase Diversity and Equity in STEM) initiative. With generous funding from the Leona M. and Harry B. Helmsley Charitable Trust, TIDES recognizes and directly addresses the limitations of current undergraduate STEM reform efforts by increasing the capacity of STEM faculty to positively affect underrepresented STEM students' interest, competencies, and retention in the computer sciences and related STEM disciplines.
The inaugural TIDES Faculty Workshop occurred in May 2015 at Bryn Mawr's Blended Learning in the Liberal Arts Conference.
For more about Bryn Mawr's project, see this article from July of 2014.