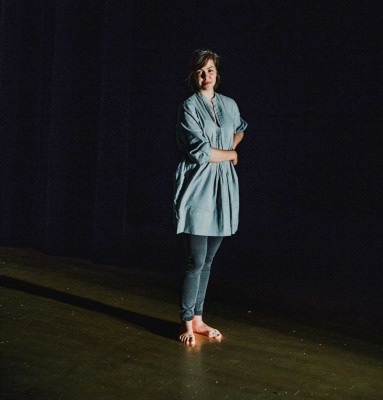 Growing up in South Africa, Camilla Dely '15 never thought much about theater as a field within which she might one day build an academic, personal, or professional life.
"In South Africa the arts are poorly supported by both the public and the government, and it was only when I came to the United States that I was exposed to the world of theater outside of Broadway touring productions," says Camilla.
However in 2012, Camilla had the opportunity to study clown with Bryn Mawr alumna and independent theater artist Charlotte Ford '02, and it changed her life.
"Studying clown with Charlotte has remained one of my most challenging and rewarding adventures. I learned lessons that proved vital to me as a performer, and that have influenced me far beyond the theater," she says. "I believe that to fail on stage is a truly incredible thing, because it demands an enormous amount of vulnerability. For me, taking risks in performance has made making smart risks in life possible."
Camilla's latest smart risk comes in the form of a Watson Fellowship, which will have her traveling from Sweden to Turkey to the United Arab Emirates, Indonesia, and Brazil.
The Watson Fellowships provide recipients a rare window of time after college and pre-career to engage their deepest interest on a world scale. Fellows conceive original projects, execute them outside of the United States for one year, and embrace the ensuing journey. Fellows decide where to go, who to meet, and when to change course.
As Camilla travels, she will examine each country's unique conventions that shape life- and art-making for women. At each stop she has highlighted a specific woman whose artistic work and life she is particularly drawn to and will seek that artist out with the hope of getting to know her as the starting point for her investigation. Through these contacts, Camilla hopes to find other women artists working under the same structures, but who have built their lives in very different ways.
During her two to three months in each country, Camilla hopes to gain a fuller understanding of these societal structures and to observe how women make their day-to-day lives inside them.
"To me, being an artist means a repeated plunge into the unknown, demanding curiosity, rigor, and, above all, courage," says Camilla. "Every woman making theater in the world is working in a system of specific cultural and social conventions that shape how she is able to create her art and build her life as a woman."
A theater major at Bryn Mawr, Camilla credits, in addition to Ford, Bryn Mawr faculty members Catharine Slusar, Mark Lord, and Maiko Matsushima for fueling her passion for the art of theater.
"They are the most incredible humans and artists," says Camilla. "They have all been invaluable teachers, mentors and friends to me through my time at Bryn Mawr."