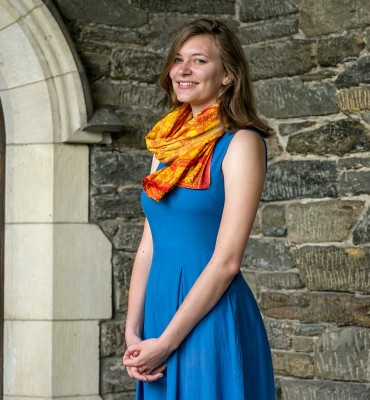 As a 16-year-old living with her family in Kampala, Uganda, Rebekah Adams'15  saw firsthand how ethnic affiliations can be manipulated to maintain and stoke social divisions.
The family lived near the Kasubi Tombs, the burial ground of the four kings of Buganda and a UNESCO World Heritage Site, which was engulfed in flames one night in a still unexplained fire.
By morning, fingers started to point in blame. The Baganda, a Bantu ethnic group native to the region, regarded the central government and other ethnic groups with suspicion. When the president visited the aftermath of the fire, riots erupted.
"Development is crucial to regional stability, but social division – as erupted in the aftermath of the Kasubi Tombs fire – threatens this stability," says Rebekah, who has been awarded a Boren Scholarship to study Swahili in Arusha, Tanzania. "Ethnic diversity, however, is not the cause of division; socioeconomic inequality and political marginalization stemming from divisive colonial ruling policies is the cause for conflict."
David L. Boren Scholarships and Fellowships are sponsored by the National Security Education Program (NSEP), a major federal initiative designed to build a broader and more qualified pool of U.S. citizens with foreign language and international skills.
Boren Awards provide U.S. undergraduate and graduate students with resources and encouragement to acquire language skills and experience in countries critical to the future security and stability of our nation. In exchange for funding, Boren award recipients agree to work in the federal government for a period of at least one year.
"Knowing that American security is crucial to East African peace and development, I eagerly seek to serve the federal government in the national security sector, regardless of the Boren Scholarship," says Rebekah. "However, my experiences of striving to understand the African continent – from my childhood in Uganda and Kenya to my years of Swahili and African Studies, to my work in Ghana – inform my deep understanding of the significance of the Boren's mission."
While at Bryn Mawr, Rebekah won the Foreign Language and Area Studies (FLAS) Fellowship from the University of Pennsylvania to study intermediate Swahili and enrolled in several African Studies courses.
The courses also gave her a better understanding of the region she'd called home for so many years.
"I was astonished at what I learned,' she says. "Although I had spent nearly 15 years in Uganda and Kenya, I only knew a very incomplete history of the continent. My experiences in East Africa finally made sense, and I was excited to learn more."
A sociology major, Rebekah declared an Africana Studies minor (eventually taking more courses in that field than in her major); spent a semester in South Africa at the University of Cape Town; and earned a fellowship, fully funded by the Teresita Sparre Currie '43 Memorial Scholarship, to Dalun, Ghana, where she engaged in community development work at a local radio station and computer center.
"Bryn Mawr has let me hone my personal interest in Africa. Through Bryn Mawr's Quaker Consortium, I've been able to take Africa-specific classes that a lone college could never offer," says Rebekah. "My professors at Bryn Mawr have had my back; they clued me in to special opportunities, encouraged me through application processes, and written personal letters of recommendation. Furthermore, I've been able to visit Africa through Bryn Mawr twice – once to study abroad in South Africa, and again as a fellow in Ghana, fully funded by the College. I wouldn't have won the Boren without the experiences and mentorship that Bryn Mawr afforded me."
After her Boren year, Rebekah plans to assist a professor at the University of Cape Town (South Africa) with a research project on food security in sub-Saharan Africa as a Commonwealth Africa Scholar.