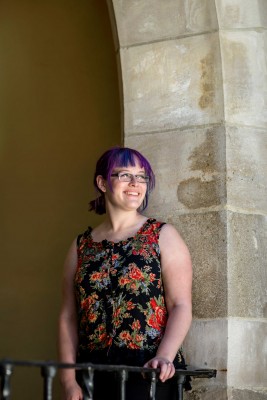 Mikayla Holland '15 has been awarded a Boren Scholarship to study the Russian language at the Flagship Language Program at Al-Farabi National Kazakh University in Almaty, Kazakhstan.
"While my primary area of interest is Russia, I value the opportunity to study in Almaty, Kazakhstan, in the coming year," says Mikayla. "Central Asia is a fascinating melting pot of cultures, connecting Asia, Russia, the Caucasus, and the Middle East. Learning to navigate the cultural complexity of the region will improve my cultural fluency. In addition, the different accents, dialects, and languages will present their own challenges linguistically that will make my mastery of Russian more flexible, adaptable, and fluent."
David L. Boren Scholarships and Fellowships are sponsored by the National Security Education Program (NSEP), a major federal initiative designed to build a broader and more qualified pool of U.S. citizens with foreign language and international skills.
Mikayla's program includes intensive classes for second language learners, direct enrollment in the university, homestays with Kazakh families, and an internship component at a local organization.
From Atlanta, Mikayla began learning Russian with the goal of reading her favorite Russian classics in the original.
While in first-year Russian at Bryn Mawr, she discovered that she was also fascinated by the language itself, and now is interested in translation and interpretation.
"I came to love Russian culture through literature like Crime and Punishment and The Master and Margarita," says Mikayla. "After enrolling in Beginning Russian, I discovered that few things fascinated me like the complex grammar and sheer aural beauty of the Russian language."
Mikayla's studies, especially an academic year abroad in Moscow during the 2013-14 school year, kindled a late-blooming fascination with politics and current events. A recent vacation to Kiev during the violent protests there intensified her interest.
"Understanding volatile political situations such as the one in Ukraine requires on-the-ground knowledge, extensive reading in several languages, and an understanding of the historical and cultural context of the situation," says Mikayla. "I began to realize that I could do more with my training than translate texts in a university; I could use my skills to help fight crime, stabilize relations between the United States and Russia, or help immigrants in need find better lives for themselves. "
Boren Awards provide U.S. undergraduate and graduate students with resources and encouragement to acquire language skills and experience in countries critical to the future security and stability of our nation. In exchange for funding, Boren award recipients agree to work in the federal government for a period of at least one year.
The Bryn Mawr College Department of Russian offers an undergraduate program of study that has become nationally and internationally renowned. Our program in Russian language is designed to help students successfully attain an advanced level of oral proficiency in Russian by the time they graduate. In addition to language courses at all levels, students have the opportunity to take a variety of courses in Russian literature, linguistics, history, cinema, and culture; department majors concentrate in one particular area of study.
Information on the many fellowships available to Bryn Mawr students can be found online.