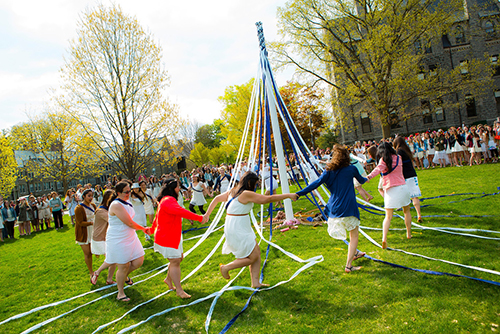 As finals week approaches and Bryn Mawr students bear down on exams and papers, the College's traditional May Day celebration urges emergence from the library stacks and the lifting of noses from grindstones with a daylong moratorium on academic activity. For several years, Bryn Mawr's May Day celebration has been held on the Sunday following the last day of classes. This year, the date falls on May 3.
The celebration begins at 5:45 a.m., when sophomores awaken seniors with flower baskets and song. A mix of old and new traditions, the day includes a hoop race that predicts who will be the first to earn her doctorate. In addition to the traditional maypole event, students in the mid-1980s added a distinctly feminist May Hole Dance, celebrating the liberation of women from patriarchy through the symbolic releasing of thousands of flower petals into the air. The daylong re-enactment of the Elizabethan rite of spring ends with the screening of The Philadelphia Story, starring Bryn Mawr's most famous graduate, Katharine Hepburn '28. The next morning, final exams begin.
Many of the day's events, including Maypole dancing, hoop race, concerts, plays, and colorful Renaissance pageantry, are free and open to the public.
The schedule of the day's activities, excerpted from the traditional May Day program (the abbreviation "RS" stands for "rain site"), is below. See the College's online calendar for updates.
9:00     Ye Morris Dancers, ye Stilt Walker, and ye Fire Eater perform in front of ye Pembroke Arch.
9:15     Seniors march to ye Senior Steps to watch the Parade.
9:30     Ye Grande Processional with the President of the College, the May Queens, Traditions Mistresses, Songs Mistresses, Worthies, and May Pole Dancers
9:45     May Pole Dancing on ye Merion Greene by the four classes and McBride Schollers. Ye President and ye May Queens deliver humorous speeches. RS: Thomas Great Hall
10:00 Senior May Roll Hoop Race down ye Senior Row
11:00   May Hole Dancing on ye Denbigh Greene
11:00-1:30 A picnic lunch is served on ye Erdman Greene. RS: Erdman Lobby, Living Room, and Dining Rooms
11:30   Scottish Country Dancing on ye Merion Greene. RS: Goodhart Music Room
12:00 A Capella Concert on ye Carpenter Beach featuring Acabellas, Counterpoint, Chaverim, Extreme Keys, Looney Tunes, and Night Owls. RS: Thomas Great Hall
12:00-5:00 Traditions sales in front of ye Campus Center. RS: Campus Center Foyer
12:00-3:00 Face painting, glitter tattoos, and caricatures on ye Merion Greene. RS: The Lusty Cup
1:00     Greek Play in ye Sunken Garden. RS: Dorothy Vernon Room
1:00     Flute Choir Performance in ye Campus Center mezzanine.
1:00-4:00 Snow cones, cotton candy, popcorn, and soft pretzels in ye Campus Center Main Lounge
2:00-5:00 Moon bounce and giant slide on ye Merion and Denbigh Greenes
2:00-5:00 May Day Concert on ye Merion Greene
2:30     Archeology Fashion Show in ye Cloisters. RS: Thomas Great Hall
2:30     St. George and the Dragon Play in ye Sunken Garden. RS: Dorothy Vernon Room
3:00     Karaoke on ye Carpenter Beach.
3:00     Rugby Sing-Along on ye Pembroke East Greene. RS: Denbigh Living Room
4:30-7:00 May Day dinner on ye Erdman Greene. RS: Erdman Lobby, Living Room, and Dining Rooms
7:00     Bryn Mawr Renaissance Choir in ye Thomas Great Hall.
8:00     The last Step Sing of the year on ye Senior Steps. RS: Thomas Great Hall
10:45 Traditional Showing of "The Philadelphia Story" starring Katharine Hepburn '28 in ye Thomas 110