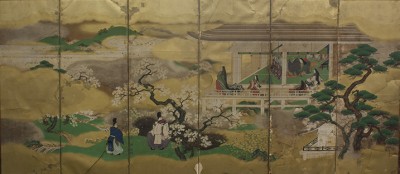 With its golden pigments and delicately painted detail, the 19th-century Japanese screen in Bryn Mawr's Special Collections illustrates the moment when the "shining prince" Genji first sees his future beloved, Murasaki.
Donated by Asian art historian Helen Burwell Chapin, Class of 1915, the screen is the work of Kanō Seisen'in Osanobu, the last great master of the Kanō School of painting, a four-century-long tradition central to the visual cultural and heritage of Japan.
A significant piece of Japan's cultural heritage—scholars believe it was part of a Shogunal dowry—the screen is in need of restoration. And Bryn Mawr is on the job.
With support from a $20,000 grant from the Sumitomo Foundation of Japan, Collection Manager for Art and Artifacts Marianne Weldon will be overseeing conservation work to be undertaken by Nishio Conservation Studios in Washington, D.C., one of the leading conservators of Asian art in the United States. Over the past year, Weldon has been working with History of Art doctoral student Anna Moblard Meier M.A. '14 to identify and evaluate the College's Japanese art collections.
Moblard Meier played an especially critical role in identifying the potential importance of the screen, doing background research on the work and the artist, and determining that the previously unidentified screen depicts a key moment from The Tale of Genji, a classic work of Japanese literature.
An incredibly rare example of Osanobu's adept homage and adaptation of classical conventions, the screen tempted curators from the Philadelphia Museum of Art when they reviewed it last summer as they prepared for the exhibition Ink and Gold: Art of the Kanō. But although the pigments and painting are intact, the work had been structurally damaged over time and too fragile to be displayed.
The restoration of the screen will take about two years, and when the work is completed, the screen will be displayed in Canaday Library.