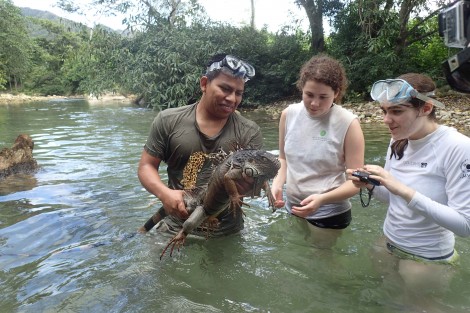 The 12 students enrolled in this year's Coasts in Transition 360° joined Bryn Mawr faculty members Thomas Mozdzer (Biology), Maja Šešelj (Anthropology), and Don Barber (Geology) on a spring break trip to Belize where they examined tropical environments and conducted marine ecology research.
While in Belize, the group was immersed in two distinct tropical ecosystems – a rain forest and a barrier reef – as they studied each region's flora, fauna, geology, history, and culture.
First, in the remote village of Blue Creek in the Belizean rain forest, students learned about the flora and fauna from local guides who provided lessons in ethnobotany (the relationships between plants and people). Students also toured the tropical rainforest canopy, swam through a cave to learn about carbonate geology, made hot chocolate and tortillas with local villagers, and encountered iguanas and howler monkeys in their natural habitat.
En route to South Water Caye, a tropical marine reserve about 20 kilometers off the coast of Belize in the world's second largest barrier reef, students visited the Late Classic Maya site of Lubaantun, where they learned about Mayan history and civilization. This was followed by drumming lessons to experience the local Garifuna culture.
While on South Water Caye, students became familiar with the mangrove, sea grass, and coral reef environments that they had studied in class. South Water Caye also provided an ideal setting for students to conduct original scientific research, a central component of this upper-level, natural science 360° course cluster.
Guided by Mozdzer and Barber, the students planned and executed a project designed to quantify human impacts on juvenile fish habitat. Specifically, the project investigated ecological effects of the removal (i.e., pruning) of the lower branches of mangrove trees along the shoreline. Along many tropical coastlines, such pruning is conducted to improve views and ocean breezes for seaside resorts.
To accomplish this, students spent each afternoon snorkeling the shoreline, counting fish among the submerged mangrove prop roots along stretches of relatively pristine (un-pruned) and pruned mangroves. Students also recorded data on other facets of ecosystem structure, and analyzed sediment samples to characterize whether mangrove pruning has modified carbon cycling or storage in the study area.
Preliminary analyses of the fish counts suggest that pruning mangroves "prunes" fish, meaning that in shoreline segments with pruned mangrove trees, the underwater root habitat no longer supports the abundance and diversity of fish observed beneath pristine mangroves.
The data collected by the 360° students over spring break also served as a case study for the Computational Methods in the Sciences class being taught this semester by Assistant Professor of Biology Sydne Record. Students in the 360° class are now collaborating to prepare a manuscript on their findings for submission to a peer-reviewed journal early this summer.
Check out this online gallery for images from throughout the trip.