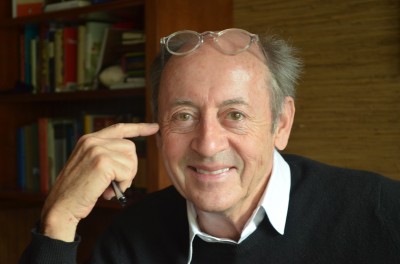 Billy Collins, former Poet Laureate of the United States, will deliver the Commencement address to the Bryn Mawr College Class of 2015 and degree candidates from its two graduate schools at 2 p.m. on Saturday, May 16.
Collins has been called "the most popular poet in America" by The New York Times and has appeared numerous times on the NPR radio show A Prairie Home Companion.
No poet since Robert Frost has managed to combine Collins' high critical acclaim with such broad appeal. His work has appeared in a variety of periodicals including The New Yorker, The Paris Review, and The American Scholar; he is a Guggenheim fellow and a New York Public Library "Literary Lion." His last three collections of poems have broken sales records for poetry. His readings are usually standing-room only, and his audience includes people of all backgrounds and age groups.
"I'm so happy to welcome Billy Collins to campus for this important celebration," said Bryn Mawr President Kim Cassidy. "Commencement is a special experience for our students and their families and friends; a day that they will remember for the rest of their lives. It's a day full of emotions and Collins is a master at expressing those emotions in all their complexity, yet he's able to do it in a way that resonates with a wide audience."
Collins served as United States Poet Laureate from 2001 to 2003 and was the New York State Poet Laureate from 2004 to 2006.
He has published 10 collections of poems, including Questions About Angels, The Art of Drowning, Sailing Alone Around the Room: New & Selected Poems, Nine Horses, The Trouble With Poetry and Other Poems, Ballistics, Horoscopes for the Dead, and Picnic, Lightning. His most recent book, Aimless Love: New and Selected Poems 2003–2013, was a New York Times bestseller.
Included among the honors Collins has received are fellowships from the New York Foundation for the Arts, the National Endowment for the Arts, and the Guggenheim Foundation. He has also been awarded the Oscar Blumenthal Prize, the Bess Hokin Prize, the Frederick Bock Prize, and the Levinson Prize—all awarded by Poetry magazine. He has also received the Aiken-Taylor Award in Modern American Poetry, The Hall-Kenyon Prize, and the Mailer Prize for Poetry.  In October 2004, Collins was selected as the inaugural recipient of the Poetry Foundation's Mark Twain Award for Humor in Poetry. His poems have been translated into numerous languages.
Collins is a Distinguished Professor of English at Lehman College of the City University of New York, as well as a Senior Distinguished Fellow of the Winter Park Institute at Rollins College.