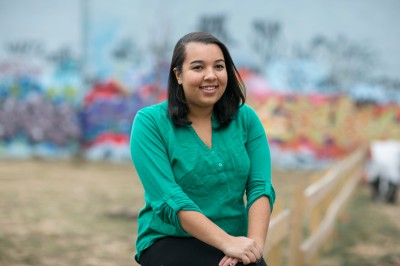 When Emma Kioko '15 came to Bryn Mawr, if asked she'd tell people she was pre-med.
With highly successful parents – both work in Manhattan, her father in risk management and her mother as a lawyer – the prestige and certainty of the phrase "I'm pre-med" just seemed like a natural, she says.
But as Emma began her sophomore year at Bryn Mawr, she found herself being drawn not to biology or chemistry but instead to English and Africana Studies.
"I really found my voice in the required course all English majors have to take, which is Methods of Literary Study," says Emma. "There are no academics in my family, but my parents both have a number of graduate degrees, so although the five- to seven-year Ph.D. programs sometimes become dinner table jokes about how old I'm going to be when I'm finished with school, they understand my goals."
"We see this often in the English department," says Kate Thomas, chair of the department, "Students believe themselves to be set on a certain path and find they are picked up and taken away by literature and the pleasures of critical inquiry. It's wonderful to be part of that transformation here at Bryn Mawr and then see how it carries students forward to exciting post-BMC careers."
Emma went from leaning toward an academic career to knowing it was what she wanted to do last summer when she served as a Moore Undergraduate Fellow at the University of North Carolina Chapel Hill, where she was able to work with Professor of English James Coleman.
While at UNC, Emma wrote a paper that explored the ambiguity of freedom in the face of trans-generational traumas in Toni Morrison's Beloved entitled, "A Haunting Present: The Ambiguity of Freedom in Toni Morrison's Beloved." As part of the program she attended bi-weekly writing, speaking, and GRE sessions as well as a weekly seminar where professors and students presented, and defended, their summer research.
"It was a really intense experience and solidified for me that being an academic is what I want to do," Emma says.
She also had the opportunity to take the "Black and Blue Tour," which focuses on the college's history of race. She was so impressed by the tour that she's started a similar project here at Bryn Mawr with Grace Pusey '15.
"The tour is first and foremost an opportunity for the re-remembering of lost histories and a potential space for reflection among the campus community," wrote Emma in a recent blog post about the project.
This year, Emma also continued to build her academic resume by taking part in a panel at the Conference on African American and African Diaspora Studies Culture and Enrichment in Greensboro, N.C. She received funding to attend the conference from both the English department and the Dean's office.
After she graduates, Emma is hoping to spend a year in some sort of fellowship program as she decides on a graduate program.
"I was a FLAS Fellow in Swahili at UPenn," says Emma. "This was great because it enabled me to dedicate a lot of my studies to African language and culture courses, but it got in the way of study abroad. So I'd like to see if I can get into a program that will allow me to spend some time overseas."
As she nears the end of her time at Bryn Mawr, Emma says she wouldn't be where she is today if not for the dedication of Bryn Mawr's faculty, particularly members for the English and Africana Studies departments.
"Professor Linda Susan-Beard has truly influenced my academic interests – she always offers amazing courses that, even though they can be at times emotionally challenging (content-wise), continue to push me to my academic and intellectual limits," says Emma. "Professor Elaine Mshomba of Swahili also played such an amazing role in my time at Bryn Mawr. I always seem to find myself in classes that challenge, shock, develop, and teach me even more than I ever thought possible."