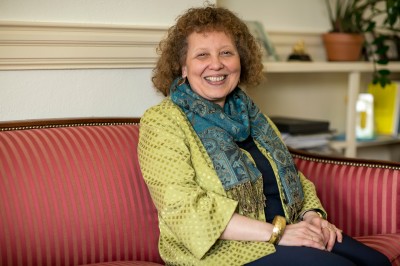 The below email was sent by Bryn Mawr College President Kim Cassidy on Tuesday, March 17
Dear Students, Faculty and Staff,
I am delighted to announce that Mary Osirim, Professor of Sociology, will serve as the next Provost at Bryn Mawr. Mary has served as the Interim Provost since July 1, 2013 and done an outstanding job in this role. Her term begins immediately and will run until June 30, 2020.
As Interim Provost, Mary has been a wonderful and invaluable colleague – she is fair, open, thoughtful, passionate, collaborative and creative. I am deeply grateful for what we have already accomplished under her leadership and look forward to our continued work together as we join with members of the community to move Bryn Mawr forward.
Prior to being named Interim Provost, Mary served as the College's Dean of Graduate Studies. In addition to chairing the Sociology Department, she has previously served as a co-director of the College's Center for International Studies and its Center for Ethnicities, Communities, and Social Policy (now the Center for Social Sciences), and as director of its Africana Studies Program. She has also been the Faculty Diversity Liaison at the College and a member of the Diversity Leadership Group.
As an academic, Mary has conducted fieldwork on women, entrepreneurship, and the roles of the state and non-governmental organizations in the microenterprise sectors of Nigeria and Zimbabwe. Many of her projects have included Bryn Mawr students as research assistants. She is the author of Enterprising Women in Urban Zimbabwe: Gender, Microbusiness and Globalization and the co-editor of Global Philadelphia: Immigrant Communities, Old and New, among numerous other publications. Mary's career at Bryn Mawr has embodied the twinned commitment to outstanding research and teaching that is a hallmark of the institution and the curriculum has been enriched in important ways by the scholarly expertise that she brings to this campus.
I am grateful to the many faculty across the divisions who participated in conversations this fall and winter to identify the next Provost. In a robust process, faculty identified potential candidates for the position and also shared candidly the characteristics the next Provost should possess, as well as thoughts about the how the office might function going forward. The Provost Selection Committee shared this thoughtful and thorough feedback with me and Mary and I will be responsive to this important information as we move forward.
I wish to thank Bill Malachowski, Lisa Saltzman, Rosi Song and Nate Wright for leading such an inclusive and thorough search process. They took up this task amongst all of their other responsibilities and I appreciate the time and careful attention they gave to this particular duty.
Please join me in congratulating Mary and in thanking her for taking on this important position.
With best wishes,
Kim Cassidy
President