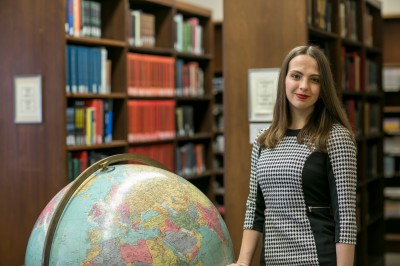 Quinoa is a high-protein, gluten-free grain-like food which just a few years ago was relatively unknown outside of old-school health-food stores and the regions of South America where it's harvested. But now quinoa can be found everywhere from the fanciest restaurants to family picnics.
While many have come to enjoy quinoa's distinctive nutty taste, chances are that most people sitting down to enjoy a curried quinoa salad or a dinner of chicken with quinoa and vegetables never once thought about the implications of the meteoric rise of this "super food" for South American farmers or the global economy.
Piper Martz '16 has.
Last summer, with the help of funding from LILAC and the Environmental Studies Program, Piper went to Bolivia and spent several weeks traveling through the Andes Mountains to learn about the indigenous culture and the people who harvest quinoa.
"Quinoa isn't eaten very often and most Bolivians prefer rice," says Piper. "But it is a culturally significant food source and there is this question of whether it's now becoming so expensive that the local farmers can't even afford it for themselves."
A political science and Spanish double major with a minor in environmental studies, Piper will further explore these questions for her senior thesis. Last week, she returned to Bolivia to complete her independent research, funded in part by the Dean's Office.
Immediately after she completes her research she'll be heading to Milan, Italy, to serve as a USA Pavilion Student Ambassador at the next world's fair, which will feature the theme "Feeding the Planet, Energy for Life." The EXPO Milano will run from May 1 through October 31, 2015, and is expected to attract 20-30 million visitors from more than 150 countries across the globe.
Selected out of more than 1,000 national applicants, Piper will spend three months living in Milan and working at the EXPO. The theme of the USA Pavilion is "American Food 2.0: United to Feed the Planet" and will showcase American innovation and technologies in agriculture.
"This is truly a fantastic opportunity and prestigious honor for myself and Bryn Mawr, especially because I will be representing the United States and our institution at an international, historic event; working at the forefront of global innovation in sustainable development; and networking with accomplished world leaders, politicians, scientists, and policy makers," says Piper.
Piper has been involved in a number of food-related sustainability initiatives on Bryn Mawr's campus and was interested in the topic even prior to arriving on campus.
In 2011, as a senior in high school, Piper wrote an economic policy paper on ending food insecurity in Senegal, which she presented at Cornell's School of Agriculture and Life Sciences. As a result, she was selected as one of four youth delegates to go to Des Moines, Iowa, to attend the Global Youth Institute at the World Food Prize symposium.
"I grew up in suburban New York. My family was very conscious about healthy eating, but there wasn't any 4-H club or Future Farmers of America. That event just totally rocked my world," recalls Piper. "I was listening to the former president of Brazil speak while sitting next to a Kenyan etymologist. It was just absolutely fascinating."
While at Bryn Mawr, Piper has worked as a national corporate researcher for, and president of the local chapter of, the Real Food Challenge. She has also interned with the U.S. Department of Agriculture as a Wallace Carver Fellow. And this winter she finished a junior year abroad experience in Argentina, where she was interning for Amnesty International.
"I go to these conference and events and I'm always one of the youngest people and I'm always one of the very few women," says Piper. "I was always ambitious and wanted to tackle the world, but I've been even more empowered through my experience at Bryn Mawr."