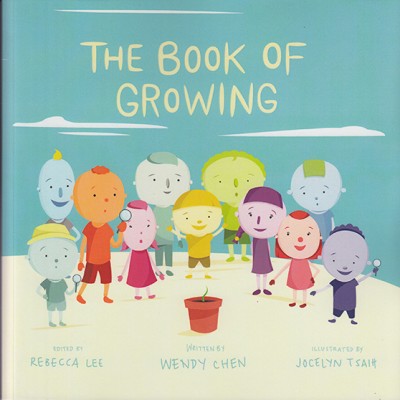 The Book of Growing, written by Wendy Chen '14, illustrated by Jocelyn Tsaih, and edited by Rebecca Lee '16, grew out of a curriculum created by Bryn Mawr students working in partnership with a class at the Phebe Anna Thorne School.
As part of Alice Lesnick's Education, Technology, and Society class, the students developed a curriculum based on their collective exploration of the question What does it mean to grow? Reading The Book of Growing, young children will find out the many answers to that question: growing means the growing of bodies, of food, of nature, of community, of the mind. And as they reflect on each of these concepts, the students explore each in depth: they paint self-portraits of their own bodies, buy groceries for a healthy meal, hike in the outdoors, and travel around the world.
J.C. Todd, a lecturer in Bryn Mawr's creative writing program (and a grandmother), has high praise for The Book of Growing: the children depicted "learn that sharing and caring for the world take root when they grow together. Delightful illustrations spark a story that will inspire kids and the grown-ups who care for them."
But the highest praise for this book comes from J.M., one of the Thorne kindergartners, who says, "It's awesome!"
To read more—and order the book—visit Amazon.com.
All proceeds from the sale of this book will benefit Titagya Schools in Northern Ghana, a pre-school and kindergarten enterprise that shares the book's vision and values.