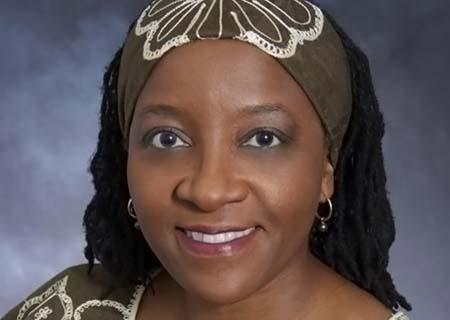 Nontombi Naomi Tutu will give Bryn Mawr College's annual Black History Month keynote address on Thursday, Feb. 5, at 7:30 p.m. in Thomas Great Hall. This event is free and open to the public.
The challenges of growing up black and female in apartheid South Africa have been the foundation of Nontombi Naomi Tutu's life as an activist for human rights. Those experiences taught her that our whole human family loses when we accept situations of oppression, and how the teaching and preaching of hate and division injure us all. In her speeches she blends this passion for human dignity with humor and personal stories.
Tutu is the third child of Archbishop Desmond Tutu and Nomalizo Leah Tutu. She was born in South Africa and had the opportunity to live in many communities and countries. She was educated in Swaziland, the U.S., and England, and has divided her adult life between South Africa and the US.
Growing up the "daughter of…" has offered Nontombi Naomi Tutu many opportunities and challenges in her life. Most important of these has been the challenge to follow her own path and role in building a better world. She has taken up the challenge and channeled the opportunities she has been given to raise her voice as a champion for the dignity of all.
Her professional experience ranges from being a development consultant in West Africa to being program coordinator for programs on race and gender, and gender-based violence in education, at the African Gender Institute at the University of Cape Town. In addition, she has taught at the University of Hartford, University of Connecticut, and Brevard College in North Carolina. She served as program coordinator for the historic Race Relations Institute at Fisk University, and was a part of the Institute's delegation to the World Conference Against Racism in Durban.
This event is sponsored by Sisterhood and the BMC chapter of the NAACP.