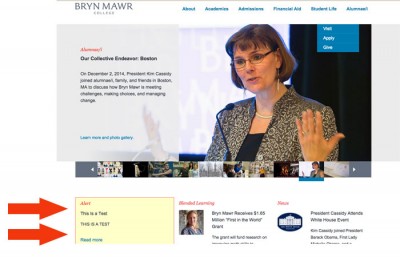 After last year's blizzard of storms, the Communications and Web Services offices worked with Campus Safety and other offices on campus to create a new page for the community to turn to in times of bad weather.
Now live, storm.brynmawr.edu, provides updates on transportation, dining services, and many other campus services during inclement weather.
Community members will still get an email when a bad weather day is determined and classes and other events are cancelled. However, now rather than having to wade through email to see if the gym or library has been opened you can go online and find out.
Check out the above image to see where on the homepage a bad weather day alert will appear.
More detailed Information about Bad Weather Days:
Any decision to declare a Bad Weather Day will be made as early as possible. In the case of a storm that begins during the overnight hours, the decision will be made at approximately 5 a.m. that morning. News of a bad weather day will be sent via email, posted to the College's homepage and storm.brynmawr.edu, and be available on the emergency hotline at 610-526-7310.
ALL classes are cancelled when a Bad Weather Day is declared. Once a Bad Weather Day has been declared, all subsequent updates regarding dining halls, libraries, and other on-campus facilities and services will be posted to storm.brynmaw.edu.
Dining halls remain open when the College is closed due to bad weather unless otherwise noted. On days when the weather is particularly bad, dining services may only be able to operate one dining hall or may have to modify its schedule. Any changes to the schedule for the dining halls will be posted to storm.brynmawr.edu.
It should be assumed that all offices are closed for the duration of a Bad Weather Day, however, certain facilities such as the gym, library, and health center may open on a Bad Weather Day if conditions permit. Facility and office openings will be posted to storm.brynmawr.edu.
If the Health Center is closed and you have an urgent medical issue, contact Campus Safety at 610-526-7911 for transportation to the ER if necessary. If you need to talk to a counselor before the health center reopens, contact the on-call counseling service at 610-526-7778.
If there are changes to the College's transportation schedule or a decision has been made to cancel transportation services, that information will be noted in the initial announcement. Updates to the transportation schedule will be posted to storm.brynmawr.edu.
We remind students to charge cell phones and other necessary electronics prior to any anticipated bad weather.
INFORMATION FOR STAFF
When a Bad Weather Day has been announced, only staff members who have been designated by their supervisor as essential staff are required to stay or report to work. Staff members who are unsure about their status should check with their supervisor.
Staff members who leave especially early because of their commute or who report to work early in the morning should check with their supervisor if they have any questions about when to report to work.
INFORMATION IN CASE OF A POWER OUTAGE
Campus safety, facilities, and residential life staff will be on campus during weather emergencies and working with hall advisors to make sure students are receiving timely updates should a power outage occur. If there is an outage, students should:
Check with their hall advisor
Check for text messages from the College's emergency notification system
If at any time you have a specific concern, call Campus Safety at 61O-526-7911, or use an on-campus call box, or go to the Campus Safety office, located in the Maloney building
For information on signing up to the College's emergency notification system, go to www.brynmawr.edu/safety/notification.htm.