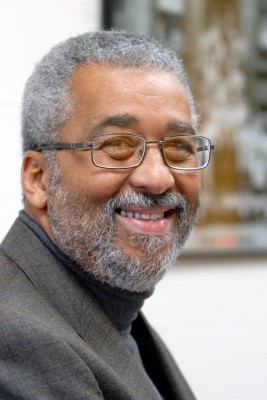 As someone whose most current research deals with group position and racial conflict in an urban area, and on the legal regulation of race, GSSWSR Professor Raymond Albert has closely followed the events surrounding the shootings of Michael Brown and Eric Garner by police, and the protests caused by the lack of indictments in the cases.
However, Albert believes that the racial elements raised in the deaths of both men also bring into focus a fundamental concern.
"Even against the backdrop of the racial components of these encounters, we're left with fatal encounters between unarmed individuals and police. Whatever your ideology, we should all be able to agree that that shouldn't happen. That something is amiss," says Albert.
And while it's essential to examine the role of race and history in relation to these incidents, we are also compelled to figure out how to minimize similarly fatal incidents from occurring again, argues Albert.
"Do we need to deal with the societal racial issues, given the interplay of race and law in the American context? Absolutely," he says. "And we also need to be looking at exactly what's happening during these encounters and what can be done to keep families from experiencing these tragic outcomes."
As an example of what can be done, Albert points to the work of Men in Motion in the Community (MIMIC), under the leadership of Executive Director Edwin Desamour.
MIMIC, a North Philadelphia-based organization that focuses on building bridges of community support and social bonds for high risk youth and young adults of West Kensington—through mentoring, community engagement, and educational enrichment—has partnered with The Disproportionate Minority Contact (DMC) Law Enforcement Corporation of Pennsylvania and the Philadelphia police to help with police training.
The objective is to engage police recruits and the youth MIMIC works with in a frank discussion of those moments when police and youth interact on the streets of Philadelphia.
"The training allows the youth and recruits to critically examine their assumptions about each other and the circumstances that compel their encounters," says Albert.
Discussions include simulations of street interactions between youth and the police, prompting both groups to envision the other's perspective. The honest exchange also leaves room for youth to vent their anger about their (real or anticipated) experience at the hands of the police and similarly allows the recruits to convey their sentiments about their views of such situations.
"The partnership between MIMIC, the DMC, and the Philadelphia police department is replicable, though one hastens to add the obvious: there is no guarantee that Michael Brown would be walking the streets today if such an initiative had existed in Ferguson," says Albert. "The young man's death, however, and the associated painful aftermath for his family and community, warrants the conviction that hope might triumph over experience."