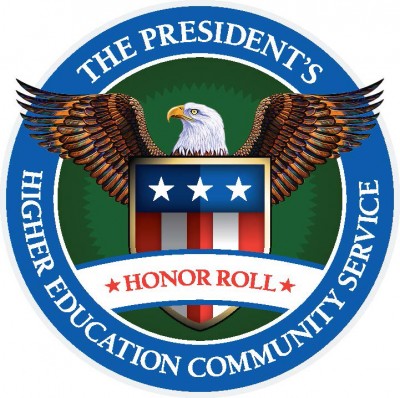 The Corporation for National and Community Service has once again recognized Bryn Mawr College for its exemplary community service programs, particularly lauding the College's efforts in promoting economic justice and anti-poverty work.
For the sixth year in a row, Bryn Mawr earned a slot on the President's Higher Education Community Service Honor Roll. Additionally this year, Bryn Mawr was a finalist for the Honor Roll's Presidential Award, the highest federal recognition an institution can receive for its commitment to community, service-learning, and civic engagement. Bryn Mawr was named a finalist for the award in the "Economic Opportunity" category.
This is the first year that institutions could apply in the Economic Opportunity category. In addition to emphasizing programs in the areas of general community service and K-12 education programs, Bryn Mawr's application highlighted three Civic Engagement Office programs that focus on economic justice and were exemplary both in the measurable amount of service performed by the participants and by the impact they had on the communities served:
VITA (Volunteer Income Tax Assistance) Program—Working in partnership with the Community Action Development Commission of Montgomery County (CADCOM), Bryn Mawr students are trained as certified IRS tax preparers and assist the organization in providing free tax services to Norristown residents. In 2012 – 2013, 30 students volunteered with VITA and performed 3,099 hours of service as tax preparers. Volunteers prepared 995 tax returns for Montgomery County residents, including 277 EITC credits. The total amount of EITC dollars returned to CADCOM's clients was $480,650 and the total amount of refund dollars was $1,353,890.
Effective Grantsmanship—Through this workshop series offered during spring break, undergraduate students learn the skills necessary to research grant opportunities, conduct needs assessments, and write effective grant proposals. An optional part of this program is a 10 – 12 hour internship with a local community-based organization where the student actually prepares a portion of a grant proposal or conducts grant research for the organization.
LIFT—LIFT is a national, student-founded organization with offices in cities around the country that works to help all people achieve goals of personal, social, and financial well-being through one-on-one meetings with trained student advocates. LIFT's mission "is to help community members achieve economic stability and well-being while establishing a new standard for holistic and enduring solutions in our country's fight against poverty." Student advocates work with community members to draft resumes, facilitate job searches, apply for public benefits, provide tax assistance, secure safe and stable housing, further education, establish reliable healthcare, and achieve any other goal related to an individual's personal, social, and financial well-being. Bryn Mawr undergraduate and post-baccalaureate students work with LIFT as volunteer advocates during the academic year, also as summer fellows, interns, community-based Federal Work-Study recipients, and in a service-learning capacity through Bryn Mawr's Praxis program.
Four years ago the Civic Engagement staff evaluated the scope of community partnerships and opportunities offered to students and made a conscious decision to develop programming addressing poverty and economic justice. Partnerships developed with LIFT-Philadelphia and Clarifi resulted in internships for students during both the academic year and the summer.
"It is really gratifying to see the results of our intentional focus on expanding anti-poverty and economic justice civic engagement opportunities recognized in this award. Students have shown that they really care about this issue and want to be involved in this work, and this award both validates and celebrates our commitment to promoting economic justice," says Nell Anderson, co-director of the Civic Engagement Office.
In total, more than 760 higher education institutions were named to this year's Honor Roll. From that group, four schools are selected to receive the President's Award in one of four categories – general community service, economic opportunity, education, and interfaith community service. An additional 16 schools are named as finalists for the President's Award.
Schools are recognized based on a number of factors, including scope and innovation of service projects, percentage of student participation in service activities, incentives for service, and the extent to which the school offers academic service-learning courses. In addition, the impact of the service performed by the institution's faculty, staff, and students is weighed significantly when the applications are reviewed.
Students interested in any of the above programs can stop by the Civic Engagement Office for more information.