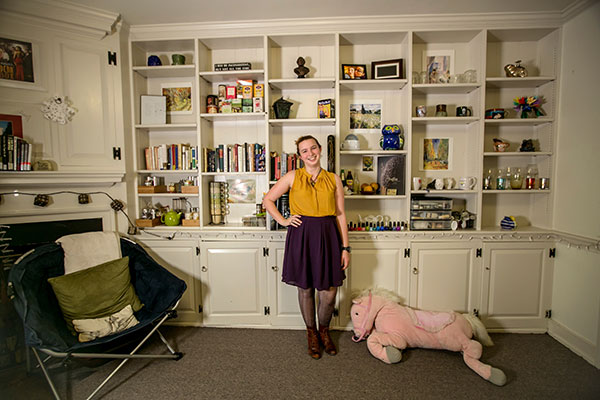 Whether their look is Art Nouveau or Chic on a Student Budget, the participants in this year's Project Dorm Room contest have all channeled their inner Martha Stewart to put their personal stamp on their rooms.
The annual room design contest, now in its seventh year, begins with first-round voting by the student body, with the grand prize round determined by a vote of the residence council, faculty and staff. Criteria for judging are room style, color, warmth, hominess, flair, creativity, innovative use of space, and personality.
This year's grand prize winner was Rebecca Cook '15, pictured above, who gave her Batten House room a "classic gallery" look. Some of the other finalists were: Alisha Clark '18 and Olivia Porte '18 (Brecon); Camilla Dornquast '18, Claire Billington '18, and Emmeline Douglas-Mann '18 (Erdman); Eileen Morgan '15 (Merion); Syona Arora '15 (Pem West); Kelsey Rall '17 (Rhoads North).
A gallery of several of the Project Dorm Room winners can be found here.