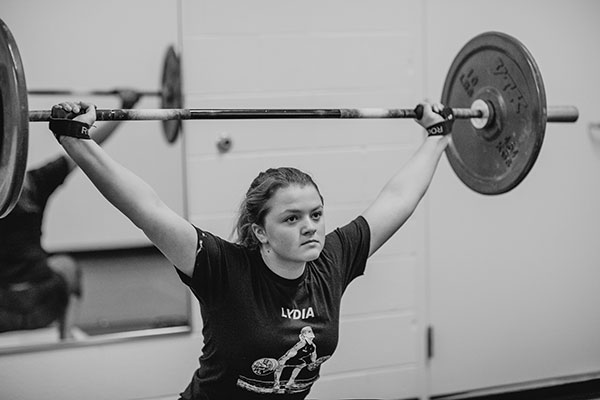 Bryn Mawr is a place where women grow stronger in their academic abilities and strengthen their knowledge both of a field of study and of the world. But for Monica Nelson '14 and Bryce Lewis '16, Bryn Mawr has also been a place where they've been able to experience a more tangible growth and strengthening through the aches, pains, and rewards of a passion they both discovered as BMC students: weightlifting.
Their story can be found in the pages of the November issue of the Alumnae Bulletin, on the cover of which Bryce does her best imitation of Rosie the Riveter in honor of the can-do spirit of Bryn Mawr President Kim Cassidy's inauguration.
In addition to the cover shoot, Bryce invited us to an early morning workout of the Iron Owls, a club she and Monica founded for other students interested in the sport.
"Weightlifting isn't exactly a popular sport in America," says Bryce, "and our club can provide students on campus the opportunity to try something they wouldn't have been exposed to otherwise. I'm excited to see some of our newest athletes grow into the sport and discover how strong they can be."
A full photo gallery of the Iron Owls can be found here. Students interested in joining can contact Bryce through her Bryn Mawr email address.