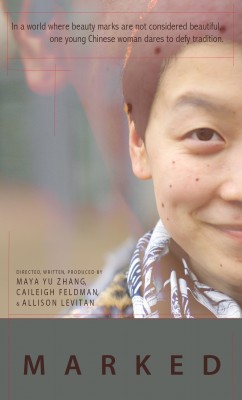 When Maya Yu Zhang '15 was a young girl, her mother paid a man who ran an unlicensed mole removal shop to remove a mole on the back of her neck.
Now about to turn 23, she still remembers the pain of the experience.
That memory lies at the heart of Maya's short film Marked, which will be screened at the Philadelphia Asian American Film Festival on Friday, Nov. 21 as part of the festival's "Locals Only Shorts" collection. The screening is free and runs from 5:45-7 p.m. at the Asian Arts Initiative, 1219 Vine St., Philadelphia.
"The film deals with a lot of themes, including cross-cultural ideas about beauty, but as much as anything it's about how children relate to their parents and how both sides deal with those generational differences," says Maya.
Maya shares the writer/producer/director credits for the film with Carleigh Feldman (HC '14) and Allison Levitan '14. The trio created the film in the spring of 2014 as part of a class taught by Vicky Funari.
At Funari's urging they entered the film into the Tri-Co Film Festival, where it received both the Best Essay Film and Audience Awards. In addition to the Philadelphia festival, Marked has been screened at the Boston Asian American Film Festival and is being considered for the San Francisco Asian American Film Festival.
"This is a very personal film for me so at first I wasn't sure about having it seen outside the classroom," says Maya. "But Vicky pushed us to learn about all aspects of filmmaking, including things like distribution. It turned out to be a great decision because the response has been so positive and it's helped my confidence as a filmmaker grow tremendously."
Maya came to Bryn Mawr from China with little idea as to what she might major in. Her uncertainty only grew while in school, prompting her to take a year off between her sophomore and junior years. During that time, one of the many things she did was work at a Beijing independent film festival.
"I've always loved film but never saw it as a real option. I kept talking to filmmakers at the festival and they just kept telling me to start shooting," Maya says.
When she returned to Bryn Mawr, Maya decided to major in Italian, but sought out courses dealing with film, finding at least one such course each semester.
"I could have gone to a school with a film major but I'm not sure I'd have ended up on this path," says Maya. "Bryn Mawr is a place that has taught me to think about values and purpose. Social justice, creative freedom, critical analysis – these things are very important to me because of my time at Bryn Mawr. My time here has liberated me to make the choices I'm making today."
In addition to Funari, Maya credits James Weissinger, associate director of the Hurford Center for Arts and Humanities at Haverford for helping her share her story with a larger audience. Among other things, the Center paid Maya's travel expenses to the Boston festival.
Maya points to her major advisor, Professor of Italian Roberta Ricci, and Associate Professor of History of Art and Director of Bryn Mawr's Program in Film Studies Homay King as two of her biggest supporters at Bryn Mawr.
"Maya's film is phenomenal and it's not at all surprising to me that the film is garnering so much attention," says King. "It's a fantastic example of what our students can achieve when they are given the chance, and so important in an era where women directors and directors of color still face so many challenges breaking into the industry."
After graduation Maya is hoping to enter an MFA program. She's considering applying to Temple as well as a number of schools in California. Eventually, she'd like to return home to China
"I'm still trying to figure out what kind of filmmaker I want to be and the best place for me to explore that is probably here in the U.S.," says Maya. "But I do want to go back to China to make films one day. China is my home and there are films I want to make there and that need to be made there."