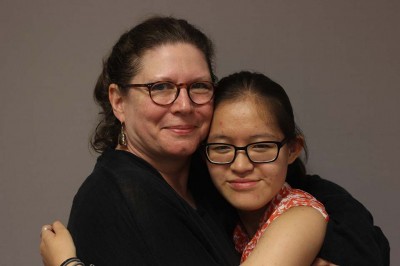 Back in September during move-in days, StoryCorps came to campus and recorded a number of first-year students and parents as they reflected on their lives together upon reaching the milestone of going off to college.
In the weeks ahead we plan to highlight a few of these conversations through brief excerpts of the full-length recordings.
Below you'll hear from Georgina Renée Johnson '18 and her adoptive mother Barbara Bridgers-Johnson. In the first clip, the pair talk about the first time they discussed the fact that Georgina was adopted. In the second clip, Georgina talks about her decision to enroll at Bryn Mawr.
Produced by Bryn Mawr College, with an interview recorded by StoryCorps, a national nonprofit whose mission is to provide Americans of all backgrounds and beliefs with the opportunity to record, share, and preserve the stories of our lives. StoryCorps is one of the largest oral history projects of its kind. Since 2003, StoryCorps has collected more than 50,000 interviews with over 90,000 participants, and each conversation is preserved at the American Folklife Center at the Library of Congress.
.