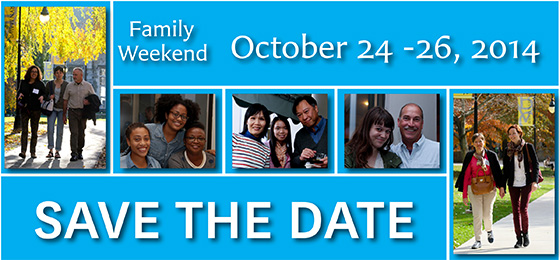 This weekend, Bryn Mawr's campus will be open to families and friends of current students for Family Weekend. Visitors can sit in on classes, join athletic teams for a game, and hear the State of the College delivered by President Kim Cassidy. Events for the weekend include tours, discussions, presentations of research, and performances. Below is a list of some of the events taking place on campus this weekend.
KIM (Knowledge, Innovation, Momentum) Talks: Modeled after the popular TED talks, listen to faculty and a graduate student present on their area of research. Topics include the digital age, environmental issues, mentorship, excavations, Byzantine, and nanoscience.
Campus Tours: Throughout the weekend, visitors can take a tour on campus with the focus of traditions, college architecture, or the landscape of the campus.
Performances and Exhibitions: Several artists will be performing on campus this weekend. Leila Ghaznavi '01, a frequent contributor to fringe festivals around the world, combines puppetry, dance, and visual effects for two back-to-back performances. Students of the Shakespeare Performance Troupe present "A Doll's House." The theater department welcomes visitors to an open theater rehearsal of their fall production. Monsoon Bissell '93 and Benaifer Bhadha perform Two Women Talking. And Curator Brian Wallace showcases an exhibition of the work of American artist Carolee Shneemann.
LILAC: The Leadership, Innovation, and Liberal Arts Center (LILAC) offers several events throughout the weekend focused on sharing internship and externship experiences and discussing leadership development opportunities with LILAC's staff and alumnae.
For a full schedule or more information about Family Weekend, see the Family Weekend webpage.