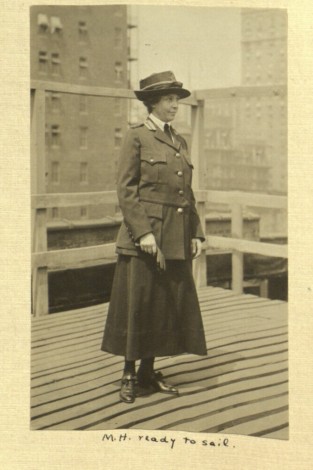 "The guns are banging away at the front. It is much farther away, but we can still hear them, and they always disturb one's nervous system. We've got the hardest part of the line near us, where there is terrific fighting and terrific mortality."
So wrote Margaret Hall about her experiences during World War I. An 1899 graduate of Bryn Mawr, Hall worked for women's suffrage, traveled to Cuba, and—in the waning days of the Great War—sailed across the Atlantic as a Red Cross volunteer. Hall's first assignment was a desk job, but she wanted to see action. She got her wish when she was assigned to a Red Cross canteen near the front lines—just in time for the last major battle of the war.
Hall took photographs and wrote letters home—materials she later compiled into Letters and Photographs from the Battle Country, 1918 and 1919. No one knows whether she intended to publish, but the final product is a fascinating—and polished—product.
One hundred years since the Great War began, another Mawrter—Elizabeth Reilly '14—has been poring over Hall's book in Bryn Mawr's Special Collections, which has one of the four extant copies in its holdings. Together with Curator for Rare Books and Manuscripts Marianne Hansen, Reilly has put together a blog post highlighting some of the material from the manuscript along with her own thoughts on Hall.
A self-described "history nerd," Reilly was impressed by the photographs: "Hall was both fascinated and horrified by the amount of destruction [and]… the majority of her photographs are scenes of desolate land, abandoned weapons, destroyed buildings, and graves."
Reilly was struck, too, by Hall's prescience. When a German prisoner told her, "Just wait six years," she wrote, "I think they have no intention of remaining a conquered nation longer than that."
A spine-chilling anecdote, Reilly observes: "Seven years after the war ended, Adolf Hitler published Mein Kampf."
###
The Massachusetts Historical Society published Letters and Photographs from the Battle Country: The World War I Memoir of Margaret Hall this month as part of its centennial commemoration of the beginning of World War I. Edited by Margaret Higonnet '63, the book presents Hall's narrative, along with the nearly 300 photographs she took during her time in Europe. Those in the Boston area can view an exhibition of material from the book at the Historical Society through January 2015. A piece  about the exhibition and Hall, titled "Over There: Daughters of Liberty," appeared in the June 5 New York Times.