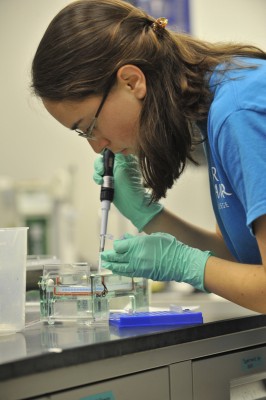 From gene research to the creation of new pharmaceuticals, biochemistry and molecular biology have revolutionized the way scientists view the natural world.
Beginning this fall, Bryn Mawr students will have the ability to more easily study these fields thanks to the creation of a biochemistry and molecular biology (BMB) major.
An interdepartmental major between the biology and chemistry departments, the major serves as rigorous preparation for a career in biochemistry or biotechnology, graduate school in biochemistry or a related field, or enrollment in a health-related professional school.
"Biochemistry has really become its own field distinct from chemistry and biology," says Chemistry Professor Susan White, who led the process to create the new program. "Students were already doing BMB concentrations but they struggled with deciding on whether to major in biology or chemistry and their academic path wasn't as clear as it will be now."
"The new pre-med competencies place significant focus on biochemistry in the curriculum," adds Chemistry Chair Bill Malachowski, who joins White and several other faculty members in the program. "There are a number of pre-med students at the college and BMB will definitely be an exciting option for them to consider."
During the first two years of the program, BMB coursework combines foundational courses in chemistry, biology, and the related sciences.
In the third and fourth years, students choose from a variety of courses to best match their interests and career plans.
Advanced coursework in more focused topics is required and a rich array of research opportunities is also available.
Taken together, the interdepartmental foundation of the BMB major necessitates a diverse curricular experience across the fields of biology and chemistry in the context of a strong liberal arts education.
For more information, visit the program website.