As the first person in her family to apply to college, Nancy wasn't sure about Bryn Mawr. In fact, women's colleges weren't even on her radar. But on visiting, she loved Bryn Mawr's sense of community and the relationships with Haverford and Swarthmore (aka, the Tri-College Consortium). And Bryn Mawr hasn't disappointed: "You meet lifelong friends at Bryn Mawr, and the deans and professors are there for you," she says.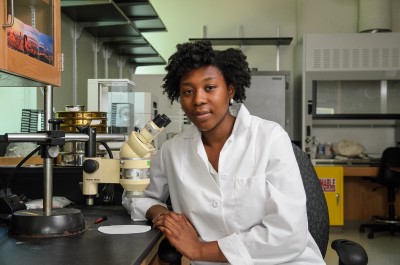 When she talked to professors in the Geology Department, she found their excitement for the field infectious. In fact, she's hoping to follow in their footsteps: after Bryn Mawr, she wants to pursue a doctoral degree and an academic career.
Bryn Mawr is preparing her to do just that—providing opportunities for conducting hands-on research and presenting at academic conferences. For several years, Nancy has been one of several students working with Assistant Professor Pedro Marenco as he tests a theory about "the Great Ordovician Biodiversification, Event," an interval of time about 480 million years ago that saw a significant increase in the diversity of Paleozoic marine organisms.
As a Summer of Science researcher, Nancy took part in Marenco's expedition to Utah's Fossil Mountain to collect rock samples and, back at Bryn Mawr, conducted paleo-biological and geochemical tests to examine their oxygen/sulfate content. In the fall, she and two other Bryn Mawr students gave poster presentations about their research at the Geological Society of America's national meeting in Denver.
Nancy credits her Bryn Mawr professors and her fellow students with pushing her personally and academically. She's made lasting friendships on campus and in the field. "In geology," she explains, "you have to be able to get along with your peers—especially on trips like the one to Utah when you're together 24/7." And in her spare time, Nancy is active in BACaSO and Sisterhood, just two of the many student organizations on campus.
But asked what she likes best about her college experience, she's quick to answer: "The professors are always there when you need help."
She adds, "Once I graduate from Bryn Mawr, I know I'll be able to do anything."