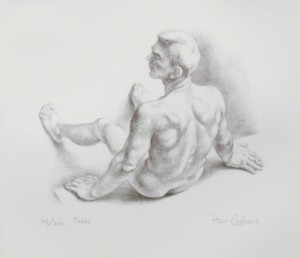 John and Joanne Payson '75 MA '09 rounded off a year of exceptional generosity by donating a collection of 20th-century prints and print portfolios to Bryn Mawr College's Special Collections.
The donation includes work by notable American artists who came to prominence in the 1920s and 30s, among them Isabel Bishop, Paul Cadmus, Jack Levine, Doris Rosenthal, Ben Shahn, and Bernarda Bryson Shahn. Largely realistic in style, the prints range widely in subject matter and include portraits, satires of contemporary politics, mythological and Biblical stories, and scenes of modern city life.
The donation followed a substantial loan of American art used to form the student-curated exhibition, "A Century of Self-Expression: Modern American Art in the Collection of John and Joanne Payson," which will hang in the Class of 1912 Rare Book Room of Canaday Library until June 1, 2014. The exhibition was part of the 360° Exhibiting Modern Art course cluster. Many of the artists represented by this gift are featured in the exhibition.