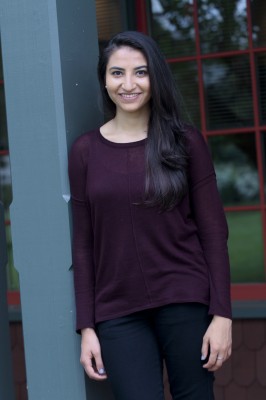 The more than 300 undergraduate members of the class 2014 and the graduating members of Bryn Mawr's Graduate School of Arts and Sciences and Graduate School of Social Work and Social Research received their degrees at 2 p.m. on Saturday, May 17.
Terry Gross, one of the most trusted and respected voices in American media, delivered the Commencement address.
For complete details and information about the weekend's events (including a link to a live video stream), go to the convocation and commencement homepage.
Among Bryn Mawr's Class of 2014 is Laila Abdul Nabi, a psychology major from Afghanistan who lost her father to a Taliban bombing as a child and first stepped into a classroom 10 years ago at the age of 13.
The Boston Globe told Laila and her sister's incredible story when they graduated from high school.
From The Globe:
A Taliban bomb had ripped through their father's Kabul watch store and killed him in 1996. Their mother, Saddiqa, was broken and terrified at what would happen to her young family without her husband's protection. She fled Afghanistan, taking her five children to Quetta, Pakistan, where she spent long days cleaning houses. The two older boys sold matches and socks in the street. Laila and Jaila kept house and sewed. They all scraped together a life.
School was somewhere other kids went. Laila and Jaila saw children pass their house in the mornings, dressed in their blue-and-white uniforms. The sisters looked over their friends' shoulders as they did homework in the afternoons.
They begged their mother to let them go to school, too. Somehow, the girls had gotten the idea of being doctors into their heads.
Next year, their mother said.
"It was always next year, next year,'' Laila recalled. (more)
The family would eventually make their way to Boston through a UNICEF program and the girls enrolled in school where, "They threw themselves into their studies, staying up till 3 a.m. some nights, pushing and coaching each other, trying to make up eight missed years."
Laila's hard work paid off and she has spent the last four years as a Posse Scholar at Bryn Mawr.
"My time at Bryn Mawr has truly been a valuable and rewarding experience," says Laila. "Though I did have some endless nights of studying and writing, the last four years have been filled with incredible discoveries and life-long friendships."
After graduation, Laila is returning to Boston, where she plans to take a year off from school as she prepares to enter a graduate program in public health.
"These last 10 years I've done nothing but focus on school," says Laila. "I want to take this year off so I bring the same passion to grad school that I have to all my other studies."
She'll be joined at graduation by her mother, sister, and brothers.
"Everything I've been able to accomplish is because of the support of my family," says Laila. "My mother and older brothers in particular have given so much to allow me to succeed. More than anything else I'm happy that I can share this moment with them and know that I've made them proud."
Here's a glimpse of what some other members of the Class of 2014 will be doing after they graduate:
Continuing their academic studies are Sara Tanner, who will be staying in the area to study social policy and practice at the University of Pennsylvania. Sara will be joined at UPenn by Growth and Structures of City Major Teresa Pula, who will be studying urban planning. Mathematics Major Mary Miller is staying close to Bryn Mawr as well; she'll be studying biostatistics at Drexel's School of Public Health. Linguistics Major Sarah Bristow will be staying in Pennsylvania to attend Edinboro University.
Traveling down Interstate-95 for graduate school will be Mathematics Major Janita Patwardhan, who will be attending the University of Maryland, Baltimore County. Classical and Near Eastern Archeology Major Rebekah Keel will be attending George Washington University. Psychology Major Arlene Munn will be at Duke University's Fuqua Business School. Psychology Major Katherine Ciarlante will be at the University of Central Florida.
Euna Park will be studying journalism at Columbia, where she'll be joined by Yiran Zhang, who will be working on a master's in public health, and Economics/Physics Double Major Shuoying Yang, who will study applied physics. Linguistics major Shohini Bhattasali will also be in the Empire State, attending Cornell University.
Graduates headed to the New England area include Brenna Lash, who will be studying public health at Boston University. She'll be joined at BU by Psychology Major Ashleigh Davila, who will be studying education. Madiha Irfan will attend Harvard Divinity School. Terry Huh will be enrolled at Tufts University's Cummings School of Veterinary Medicine. Physics Major Estella Barbosa is headed to Yale. Emma Gulley will be attending the Harvard University Graduate School of Education to study early childhood language acquisition. History Major Sophie Mankins will be studying library science at Simmons College and Psychology Major Emily Mobus will attend the University of Vermont College of Medicine.

Do you have postgraduation plans that we missed?
Share them on the BMC Facebook page
The Midwest will be home for Mathematics Major Emelie Curl, Iowa State University; Political Science Major Mengyu Liu, University of Chicago; Psychology/Math Double Major Susu Zhang, University of Illinois at Urbana-Champaign; Biology major Wenyu Pan, who plans to attend Northwestern University Feinberg School of Medicine.
Mawrters headed out West include Yinxuan Li, who will attend the University of Washington. Classical Languages Major Zoe Fox will be attending UCLA. Economics/Math Double Major Laura Wreschnig will be attending the University of Colorado at Boulder.
Students pursuing their studies outside the U.S. include Psychology Major Rebecca Payne-Passmore who will be going to Universidad de Alcalá-Instituto as part of the Franklin Teach and Learn Program. Political Science/German Double Major Ani Chen will continue her studies at the University of Toronto.
Students going on to law school include Taylor Stone, St. Louis University; Daniele Arad-Neeman, U.C. Berkeley; Faith Chung, Cornell; and Yuxin Jiang, who will be attending the University of Pittsburgh School of Law to study healthcare law.
Many Bryn Mawr students will be entering the work world after graduation.
Students entering the world of finance, business, and consulting include Economics Majors Chunan Liu, J.P. Morgan; Hiu Ching Yeung, Swire Pacific; Erin Wilder, Goldman Sachs; Nkiruka Anizoba, Crossix Solutions Inc.; and Amy Zhao, Vanguard. Mathematics majors entering these fields include Ivy Gluck, Brandywine Global; Sookyung Oh, CitiGroup Inc.; and Natalie Kato, Vanguard. Growth and Structure of Cities/Political Science Major Maya Sachdeva will be working for Arcadia Land Company and Anthropology Major Deanna Chang will be going to work for eBay.
Health and medicine is also an area many Mawrters are entering. Psychology Major Grace Ewing, will be a clinical research coordinator at the Penn Center for Women's Behavioral Wellness. Political Science Major Briana Morgan will continue her work as  a health planner and web coordinator at the Office of HIV Planning Philadelphia. Chemistry Major Hyun Ju Nam will be a research coordinator at Penn Medicine. Biology Major Nawar Naseer will be a research specialist at the University of Pennsylvania. Sociology Major Mary Fessler will be a community health research advocate for the Peace Corps.
Students entering careers at non-profits include Sociology Major Nikki Ditto, who will be a foster care case worker at Catholic Guardian Services in New York City. Linguistics and Languages Major Chaney Harter will be a student communications and social media manager for Campus Philly. Political Science Major Miranda McDevitt will be a campus organizer at Trinity College and UConn-Greater Hartford.
Those going on to careers in teaching and education include Political Science Major Sarah Borjas, who will be a student/community relations coordinator at Success Academy Charter Schools in New York City. History of Art Major Ivy Gray-Klein will be a staff writer for University of Pennsylvania Graduate School of Education. Sociology Majors Tyler Garber and Emily Rosenblum are joining Teach for America. Elizabeth Biernat will be teaching math at Achievement First Bridgeport Academy Middle School. East Asian Studies Major Rabia Shahab and Math Major Elizabeth Rock will both be assistant language teachers through the Japanese Exchange and Teaching Program. German/Psychology Double Major Faith Westdorp will be a primary school English teacher in Samoa through the Peace Corps. Philosophy Major Ilyssa Yousem will join the Baltimore City Teaching Residency program.
Students going into applied science, IT, and engineering include Economics/International Studies Double Major Vanessa Gonzalez, Odessa Technologies Inc.; Computer Science Major Xinan Li, NetApp; and Chemistry Major Alicia Makepeace, Dupont.
Bryn Mawr students who have received fellowships include Boren Scholar Sangita Kanumalla, who will be studying Arabic in Oman. Fulbright recipient Katherine Marcoux is going to Andorra. Ashley Hahn will be traveling to a number of countries including Australia, Brazil, and Ghana as a Watson Fellow. Carolina Parra and Amanda Beardall have both joined the Philly Fellows program. Fatema Esaa will be a fellow at Match Corps. German/History of Art Double Majors Isabel Andrews and Emilee Finkelstein will both be U.S. Teaching Assistant with the Austrian-American Education Commission and Fulbright Commission. Isabel will be in Salzburg and Emilee in Baden.
Anassa Kata to all the members of the Class of 2014!