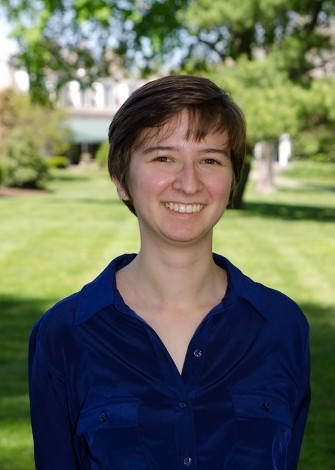 Katherine Marcoux's passion for  learning languages began at a young age. As a child, her family moved to Italy and then Japan, where she immersed herself in the different cultures and languages. In high school, she studied French and Spanish, took a semester of Mandarin, and continued to study Japanese.
"I think being exposed to so many different languages at a young age really piqued my interest in other languages later on," says Katherine. "I just love learning them."
It was at Bryn Mawr that Katherine, a recent recipient of a Fulbright Teaching Assistantship that will take her to the tiny country of Andorra, began seriously considering teaching language. During her four years here, she began focusing her major on linguistics, Spanish, and Japanese. She spent her fall semester junior year abroad in Barcelona, where she had the opportunity to volunteer as a teacher's aid at a private school teaching English to first and third graders. She was also a teacher's assistant for an intermediate Spanish class in the fall semester of her senior year.
"What I like about teaching is getting across my enthusiasm and love for the language, even though it might not be the student's favorite class," she says.
Katherine's decision to spend her Fulbright year in Andorra stems from her study abroad in Barcelona, where she was introduced to the Catalan language, the official language of Andorra, and promptly began studying it.
"In Barcelona, they speak Spanish and Catalan," says Katherine "It fascinated me to observe when people decided to use which language and in what context. I then came back and took Haverford's 'Politics of the Spanish Speaking World' and the two prompted me to write my senior thesis on Catalan and how it's prestige had changed over the years."
Katherine hopes to not only teach English while in Andorra, but also be able to observe her thesis research firsthand, as well as immerse herself in the culture.
"I have found that the best way to get to know a community is by being involved, and it is through day-to-day interactions that you learn about each others' cultures and customs and realize how similar we are in the end, despite the differences of language and location."