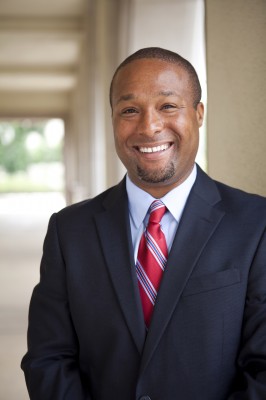 Pelema I. Morrice, associate vice chancellor of enrollment management at the University of Nebraska-Omaha (UNO), will be Bryn Mawr College's Chief Enrollment Officer beginning in July, announced President Kim Cassidy today.
"Pelema is a highly successful enrollment professional with a deep understanding of the demographic and cultural trends impacting liberal arts colleges and the entire higher education sector," says Cassidy. "Under his leadership I expect Bryn Mawr's commitment to both excellence and access to not just continue but to reach new heights."
Morrice joined UNO in 2011. While there, he led a best-practice enrollment unit with an emphasis on developing key campus partnerships to enhance efforts in shaping each class. These endeavors have been fruitful, as the fall 2013 incoming undergraduate class was the most socioeconomically, racially, and ethnically diverse in UNO's history. In addition, the university achieved gains in high-achieving new student enrollment, student retention, and net tuition revenue.
In addition to his administrative role, he also served as an assistant professor of education. Morrice's research interests are focused on educational access and outcomes of low-income and first-generation students. He studies issues of college access and equity, college admission and choice, underserved student populations, and higher education policy.
"Bryn Mawr remains at the forefront of providing an intellectually stimulating academic environment while actualizing an ethos of ensuring access for students from all backgrounds," says Morrice. "With an array of current and future demographic shifts on the horizon, this long-standing commitment will be a vital component in Bryn Mawr's future enrollment success."
Prior to his current role at UNO, Morrice served as an assistant dean at the University of San Diego, an assistant director at California State University, and a financial aid counselor and doctoral program coordinator at Stanford University. He earned his bachelor's in psychology and master's in higher education from San Jose State University, and Ph.D. in higher education from the Center for the Study of Higher and Postsecondary Education at the University of Michigan.
Morrice was selected following a national search.
"There was an incredibly strong pool of candidates for the position," says Chief Administrative Officer Jerry Berenson, who led the search along with Interim Dean of the Undergraduate College Judith Balthazar. "Four finalists were interviewed and they all had the intelligence, experience, and knowledge of the field to be an excellent Chief Enrollment Officer. Pelema was selected over the others because he immediately understood the culture and values of Bryn Mawr and when he talked about plans to achieve our enrollment goals it was always within the context of, and consistent with, those culture and values."
In addition to Berenson and Balthazar, the selection board included trustees, faculty, students, and staff.
"I am incredibly excited and appreciative for the opportunity to join the Bryn Mawr College community," says Morrice. "I was drawn to the history, legacy, and mission of Bryn Mawr as a transformational liberal arts environment committed to preparing women for a life of inquiry, leadership, and purpose. Bryn Mawr College is an institution of rare distinction and rigor, and a community my family and I can't wait to call home."