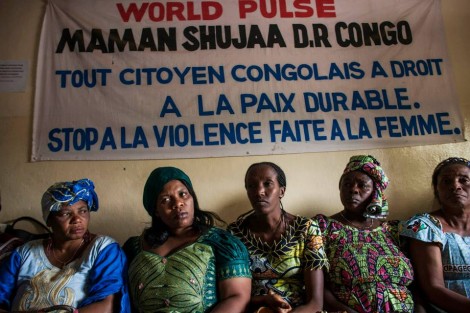 Early this academic year we wrote about World Pulse Correspondent Neema Namadamu's visit to campus as part of Agnès Peysson-Zeiss' Praxis III French course in which students translated blog posts for the organization. We revisited the class in October to get an even better sense of what the students were doing to help women in the Democratic Republic of Congo.
Now, seniors Su Oner and Lianna Reed have written a piece of their own on what it's meant to work with the women of the Democratic Republic of Congo and how honored they've been "to have the chance to stand with them in solidarity." 
Praxis III: World Pulse, Written by Su Oner '14 and Lianna Reed '14
Over the past year, through the Praxis III program at Bryn Mawr College, we have worked as volunteer translators for World Pulse. This semester, six of us have translated four to ten blogs a week. Although we are comfortable with our French, it remains a challenge to this day to read and translate Congolese French into English.  Many of the women who come to the Maman Shujaa Center are not only learning how to use a computer for the first time, but also, for many of them, French is not their mother tongue.  Our weekly meetings with Professor Agnès Peysson-Zeiss focused primarily on understanding challenging blogs so that we could translate them into English.  We often come to class with words written phonetically that we cannot decipher.  Other times there are idioms and acronyms that we are not familiar with.  It all comes together when we post the blogs below the original version on the World Pulse website.  We comment under the blogs we translate and interact with these women (in French) through these comments.  They are thrilled to know that now more people can hear their voices.
The Maman Shujaa Center is an organization, in the eastern Democratic Republic of the Congo. It was started by Neema Namadamu with the help of World Pulse, a global media and communication network.  The Maman Shujaa group focuses on women's rights issues in the Democratic Republic of the Congo.  World Pulse aims to provide a platform for the voices of eastern Congolese women. Once connected to the internet, these women can share stories about their lives and their country with the global community of World Pulse. Most blogs are about the experience of living in the region, with a wide array of topics from sexual violence to "the natural beauty of the DR Congo."  We have come across other blogs that deal with a particular practice known as "les travaux pratiques" in French.  This "activity" is where young girls must have sexual relations with either their teachers or bosses in order to pass on to another grade or to get a promotion. Another difficult and recurring theme was the unwillingness of many men to marry educated young women.  But the most positive and encouraging aspect of the blogs we have translated has been the excitement these women have as they blog and gain access to an accepting and diverse world.
Women's empowerment through social media is not a subject we are unfamiliar with at Bryn Mawr, although sometimes it is a privilege that we take for granted. Many of us have had access to computers for most of our lives.  At Bryn Mawr, we are curious about women's education around the world.  Many of us read and learn about women's empowerment through social media. The excitement and the hope Maman Shujaa members have while blogging is extraordinary.  We have been thrilled to be a part of their entry into the global sphere of women and digital media.  The lives of these people in the eastern Democratic Republic of the Congo seem so far removed from our lives at Bryn Mawr.  Our connection through translation and interaction with these individuals has made it clear that these brave women are fighting for equality in their country and we are honored to have the chance to stand with them in solidarity.