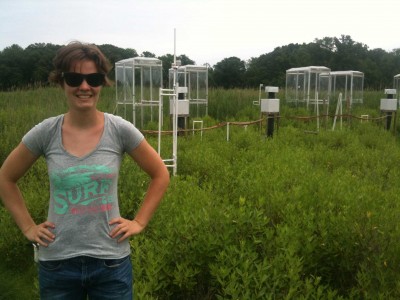 For Rachel Hager '15, the effects of climate change aren't just something she hears about on the news. Working with Assistant Professor Thomas Mozdzer, the junior biology major has been studying Phragmites australis—an invasive species that some have dubbed a Super Weed—to understand the impact of rising CO2 in the air and nitrogen in the soil on the plant's morphology and ability to invade under current and future conditions.
Rachel's research has taken her to the Smithsonian Environmental Research Center in Edgewater, Maryland, where Mozdzer initiated a long term global change experiment. She tracked the growth of Phragmites under several experimental conditions: some plots have elevated nitrogen, simulating nitrogen pollution (aka excessive fertilization), others simulate year 2100 levels of CO2, and a third set simulate the combined effects of elevated CO2and nitrogen pollution. Rachel's findings showed that plant growth increased with either elevated CO2 or simulated nitrogen pollution, but that a combination of CO2 and nitrogen stimulated growth still more.
In March, when Rachel presented her findings at a meeting of the Atlantic Estuarine Research Society, she was given the Outstanding Undergraduate Student Oral Presentation award for her talk, "Phragmites australis functional traits and carbon fixation are affected by anthropogenic climate change."
"This is a huge accomplishment for Rachel that speaks highly of her great work," says Mozdzer. "There aren't a lot of undergraduate students who receive these types of honors."
At the same meeting, Caitlin Bauer '16—another of Mozdzer's undergraduate researchers—presented a poster on her research into the effects of chronic nutrient pollution on plants. She, too, received a nod as having the second-best poster presentation from an undergraduate student.
Joshua Caplan, a post-doctoral scholar who holds the Bucher-Jackson Fellowship in the Sciences at Bryn Mawr, also contributed to the above projects.  In addition, he presented research at the conference that another undergraduate researcher from Mozdzer's lab, Christine Wheaton '13, initiated as part of her senior thesis; it was an analysis of the energetic investment that  Phragmites makes as it builds biomass. The work was also recently accepted for publication in a peer-reviewed journal, AoB Plants.
Bryn Mawr's Biology Department encourages undergraduates to pursue on-campus research opportunities. The number of students conducting research varies from year to year. During the academic year, an average of 20 students conduct research in the Biology labs; during the summer, there are usually around eight to 12 students conducting biology research on campus.