Angie Chen '16 has developed a free Blue Bus app that is currently available for Android phones. The app provides users with access to each day's updated Blue Bus schedule, as well as an option to search for a pick up at a specific time and date.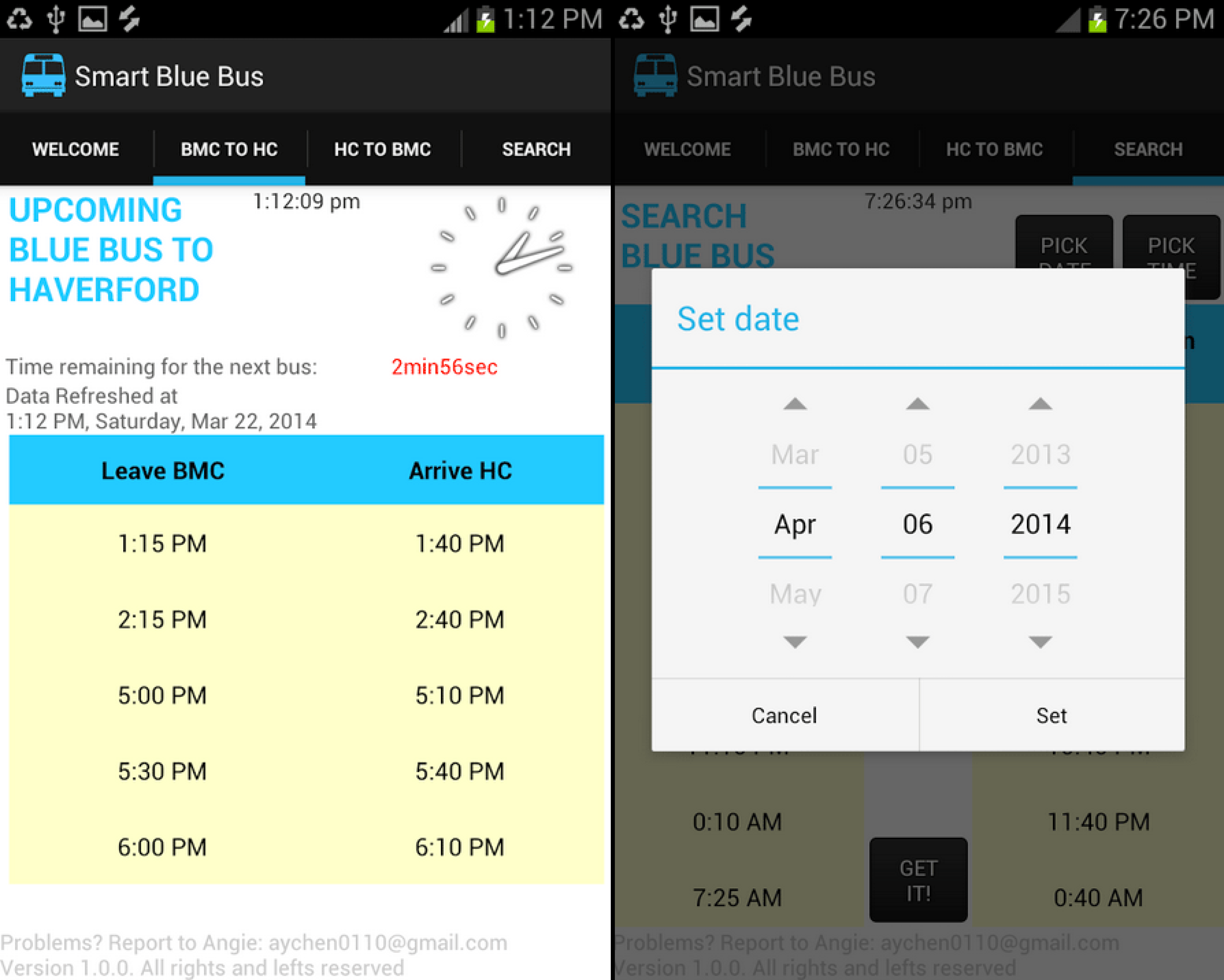 Angie, a computer science major who created the app independently of her classes, developed it as a substitute for the online transportation schedule, which can be difficult to use on a mobile device. It was at the Tri-Co Hackaton, where Angie was part of the first place team, that she was inspired to create an app that provided the up-to-date Blue Bus schedule. Another group created a server, where someone looking for the bus schedule could send a text and receive a list of the next series of Blue Bus times. After considering this idea, she decided that she could develop an app that served the same purpose. "It made me think, it's not only me who wanted the app," says Angie. "Other people might also benefit from having an easy way to check the schedule."
In addition, Angie is in a fellowship with the Center for Science and Information, where she is developing a project evaluating the effectiveness of Google Glass. For the project, she needed to develop apps for Google Glass, which is based on an Android platform. "That was my motivation to learning Android development in the first place," says Angie. "Otherwise, I probably would have started with an iPhone app, but since I'm in the program I have an incentive to learn Android."
This is the first app that Angie has developed and according to her, an iPhone version of the Blue Bus app will become available during the summer. Android users can find the app by searching "Angie Yunqi Chen" or "Bryn Mawr College" in the Google Play Store, while simply searching for "Blue Bus" may result in dozens of irrelevant apps.