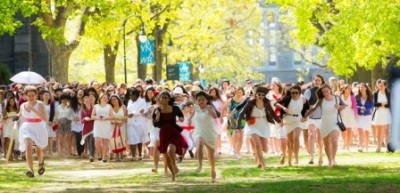 Race 'Round the Maypole, Bryn Mawr's class color challenge, is back!  Which class color will be this year's winner?
Race 'Round the Maypole is a challenge to see which class color can reach the greatest number of Bryn Mawr Fund donors in the ten days leading up to May Day: April 25 to May 4.  The competition is always fierce between Bryn Mawr's class colors, and last year, it was a battle of the Blues. Dark Blue was the overall winner and, after a tight race, beat Light Blue by just one donor.
Will Dark Blue reclaim victory in 2014?  Will the Class of 1959 turn out in full force again this year?  Will GOLD alumnae, the classes of the 1990s, and parents of the Class of 2016 be standout contributors once more?  Only time will tell.  Starting April 25th, the slate is clean, and any class color could come out on top.
The winning class color will earn boasting privileges for a year and have their class color prominently displayed on the Maypole at Reunion.  All Bryn Mawr alumnae/i are invited to participate.  Bryn Mawr parents can join in the fun too – their gifts will benefit their daughter's class color in the competition.
For more information about the class color challenge, and to make your Bryn Mawr Fund gift, visit www.brynmawr.edu/giving/classcolors.html.
Bryn Mawr Fund gifts are critical to providing today's students with the opportunities and experiences that define a Bryn Mawr education.