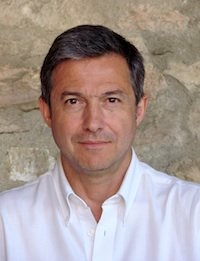 At Bryn Mawr, we often talk about how a liberal arts education prepares students to tackle the complex, interdisciplinary questions of the world.
Anthropologist, sociologist, and physician Didier Fassin, who will give a lecture titled "The Moral World of the Police" at Bryn Mawr on Tuesday, April 22, at 4:15 p.m. in Dalton 300, provides a prime example of the sort of  broad-based, big-picture, thinkers needed now more than ever, says Sociology Chair David Karen, who helped arrange his visit.
Fassin's research has spanned many fields as well as the globe.  He has done work in, among other places, Senegal, Ecuador, and South Africa and his scholarship has addressed topics as varied as AIDS, undocumented immigrants, policing, and the management of poor patients.  He is currently proposing a new field – critical moral anthropology –that, according to Karen,"is providing policy makers new insights as they debate issues of security, punishment, and inequality."
"Using the insights from a number of disciplines allows Fassin to look at the world critically and to be innovative and creative in thinking about global social problems and their solutions," adds Karen. "We see his visit as modeling and reinforcing what is at the heart of a Bryn Mawr education."
Sociology majors have shown great interest in the topics that Fassin has researched, as they flock to courses on "Punishment and Social Order," "Perspectives on Urban Poverty," "Marginals and Outsiders," and "Sociology of International Development."
In addition to pursuing graduate studies in sociology, recent graduates of the program have gone on to careers in social work, public health, development, and education.
The Department of Sociology at Bryn Mawr College offers students particular opportunities to study societies of the Global North and South, the relation of individuals and groups to society and culture, and the contribution of sociological perspectives to formation of public opinion and debate. To find out more, visit the department website.
In addition to the Sociology Department, Fassin's lectures is also being sponsored by the Bryn Mawr College 1902 Lecture Series, the Center for Social Sciences, and the Anthropology, Growth and Structure of Cities, French and Francophone, and History departments.