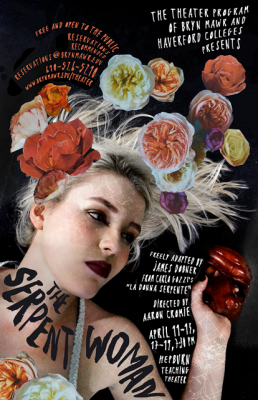 The theater program of Bryn Mawr and Haverford Colleges will present Carlo Gozzi's play, The Serpent Woman, opening Friday, April 11 at 7:30 p.m. in Goodhart Hall.
In this funny, fast-paced play, fairy Cherestani and mortal king Farruscad fall in love, and when they wed, Cherestani makes Farruscad swear that he will never look into the box containing the secret of her fairy origins. When Farruscad eventually succumbs to his curiosity about the box, Cherestani and his life with her are ripped away from him, and her evil fairy sisters make him perform a torturous — but hilarious — series of tests to earn her back.
The play, which is freely adapted by James Dobner and directed by Lecturer in the Arts Program Aaron Cromie, is a rarely performed tragicomic fable originally written in 1762. It is part of the theatrical tradition of commedia dell'arte and is characterized by the use of masked, stock characters, and highly physical style of comic acting.
Ticket information, performance schedule, and cast list, can be found on the Bryn Mawr Theater website. See below for photos from on of the production's rehearsals.