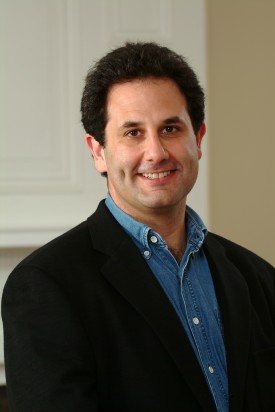 Starting in 1938 and continuing to this day, The Study of Adult Development is one of the longest-running and influential longitudinal studies of human development ever undertaken. For 76 years, two groups of men have been studied from adolescence into late life to identify the predictors of healthy aging.
For more than 12 years, Bryn Mawr Professor of Psychology Marc Schulz has been working closely with data from the study. This is the third major life span development study that Schulz has contributed to and he has become so adept at analyzing the reams of information gathered in these long-term studies that he's now being called on by other researchers looking to create similar projects.
Schulz and Robert J. Waldinger, who heads the Laboratory of Adult Development at Massachusetts General Hospital and directs the study, recently traveled to Chile where they gave a series of lectures at the University of Desarrollo's campuses in Santiago and Concepcion and consulted with a group of researchers led by Dr. Ramon Florenzano hoping to launch a similar study in that country.
"I have been fortunate to be able to gain experience with statistical and methodological approaches that are particularly useful in longitudinal studies that follow people across time," says Schulz.  "Helping researchers to fine-tune their own studies of development and adaptation across the lifespan is very exciting.  The group in Chile is going to conduct a study that I think will be a model for researchers in other countries to adopt."
This was the third time in recent years that Schulz has been asked to do this sort of consultation. In 2012 he spent three months teaching and consulting with psychologists at the University of Porto in Portugal.  This work was supported by a Visiting Scientist Grant from the Portuguese Foundation for Science and Technology.  He also collaborated with researchers at the University of Fribourg during a 2009 sabbatical in Switzerland.
Schulz's work with the Study of Adult Development, which focuses on connections over time among intimate relationships, emotion processes and health, has created a number of research opportunities for his students.
Students have worked with him to identify and code information from recently digitized files associated with the study that will provide researchers with even more relationship relevant data on the more than 700 participants in the study.
"There's a lot of research that suggests that, particularly for men, being in a good relationship is protective of your health. Perhaps not surprisingly, it turns out that the quality of the relationship is just as important as the mere existence of a relationship.  So any information we can gather that gives us a more nuanced understanding of the relationships these men had is extremely valuable," says Schulz.
In one recent example of this work, Schulz and Sarah Buonanno '14, examined something he calls "quality adjusted relationship years"  or "QALYs."
"QALYs are a way to take into account not just the length of a marriage but to also simultaneously account for the quality of that marriage when considering its impact on the health of family members," says Schulz.
Ph.D. candidate Sarah Scheckter, who Schulz advised, has also recently done work connected to the study.
For one of Schulz's most recent projects, "What's Love got to Do With It," researchers  interviewed participants in the study for a few minutes each night over the course of several nights and asked them a host of questions, most of which had to do with their relationships.
Each night they also asked participants a different "life review" question like "Do you have any advice for the next generation?" or "Looking back, what role did your spiritual beliefs play in your life?"
Scheckter, who has successfully defended her dissertation and will speak at this year's Commencement ceremony,  did a quantitative analysis of the words the study participants used to compare how the two different socioeconomic groups in the study talk about these issues and see how these styles of talking about one's life might relate to well-being in late life. She also did a more qualitative study of the prominent themes in the responses provided by these men.
"The result was this really fine piece of scholarship that's also an interesting narrative of what these men had to say about their lives," says Schulz.
Next up for Schulz is a project that deals with the children of the participants of the original study. He and co-principal investigator Waldinger recently received a  five-year grant from the National Institute on Aging which will examine the effects of childhood adversity and parental models of aging on the health of the next generation of the original study men. This is the second major NIA grant that Waldinger and Schulz have secured to continue this research.
Bryn Mawr's Psychology Department offers courses from among a wide variety of fields in psychology: clinical, cognitive, developmental, physiological and social. Majors can focus on more specialized areas through advanced coursework, seminars, and especially through supervised research. For more, visit the department website.