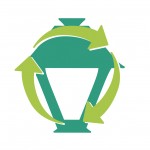 February 28, 2014 quietly marked a milestone for sustainability at Bryn Mawr. The date was the College's first day as an institution operating on 100 percent wind power, thanks to the purchase of renewable energy certificates (RECs).
RECs are sold by renewable energy generators who use the proceeds to fund industry operations and projects. A REC is calculated by considering the renewable fuel source (in the College's case, wind power), facility emissions, location, and operation and the date the electricity that produced the REC was generated. So while traditional electricity still flows through campus lines, each megawatt hour (MWh) is offset by a REC.
"We are supporting a movement for our country to move away from fossil fuels and towards a more renewable energy source," said Director of Facilities Services Glenn Smith. "We want to be able to say that we as an institution think this is the right thing to be doing: it's right for our country, it's right for our environment."
Previously, the College purchased RECs on 50 percent of its energy usage as part of a commitment to reduce its carbon footprint by 10 percent stemming from both its status as a signatory to the American College & University Presidents' Climate Commitment signed by President Nancy Vickers in 2007 and the 2011 Bryn Mawr Climate Action Plan (PDF) signed by President Jane McAuliffe.
Five years ago, the College contracted with an environmental firm to calculate its carbon footprint and to identify areas where it could reduce and conserve resources. The results of that study found that 57 percent of the College's carbon footprint was the result of its electricity purchase since Pennsylvania generates most of its power via coal. "To really get a meaningful reduction in our carbon footprint meant we had to do something in the area of how we purchase electricity," Smith said.
According to Chief Administrative Officer and Interim Chief Financial Officer Jerry Berenson, several factors aligned to allow the move to 100 percent, including student activism. "We were affected by the students on the sustainability committee: they saw this as a real priority," he said.
During a session on sustainability at the October Board of Trustees meeting, the prospect of switching to 100 percent renewable energy garnered positive support from board members, students, faculty, and staff present. Though the College was halfway through a three-year electricity contract, the administration agreed to seriously pursue the complete switch to renewable energy. "Through a lot of our conservation efforts, we had a little bit of money left in our budget for electricity so we decided we could afford to buy 100 percent wind power when we looked at it again," Berenson said.
Mathematics Professor and Chair of Environmental Studies Victor Donnay, who serves as the chair of the College Sustainability Leadership Group believes Bryn Mawr can play a valuable role in the transition to a more sustainable energy system by strategically leveraging its resources. "A goal of our committee was for sustainability to become one of the factors that is considered in the College's decision-making process. The decision to buy electricity from wind power is evidence that we are making good progress in this direction," he said.
Along with the use of LED lighting throughout campus and continued efficiency evaluations of mechanical systems, Berenson says the College will continue to seek out sustainable opportunities. An energy study conducted last year found 30 percent of the College's energy usage stemmed from the Park Science building. "We're planning a renovation of the science building and with that renovation, we hope to implement many of the energy-saving items that were identified in the study," he said.
Additionally, Smith says the College plans to conduct a follow-up carbon footprint study and has hired the same firm to do a re-measurement. "We're very optimistic that we will have met our 10 percent goal and I'm hoping we will have met that easily and that it will be well over 10 percent."