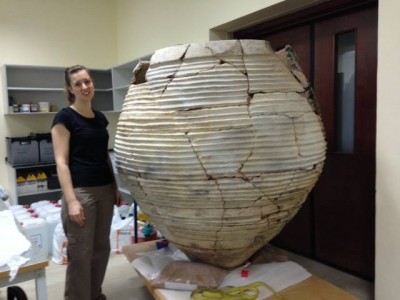 The "Big Pot" is a 3000 year-old Iron Age storage jar and is the largest known restored prehistoric vessel from southeastern Arabia
The jar was unearthed at Professor Peter Magee's on-going excavations at the ancient town of Muweilah, Emirate of Sharjah, in the United Arab Emirates, a project he has been working on in collaboration with the Sharjah Directorate of Antiquities since 1994.
Conservation of the pot was done by Briana Feston '06 with the help of a team of Bryn Mawr students.
From Feston:
It's rare to come across a ceramic as large as this pot, and it can be a huge challenge in a field environment as opposed to a museum. In a museum, you have a wide range of tools and materials at your disposal, but in the UAE, in many cases we had to improvise. We were, however, lucky that the Director of the Sharjah Directorate of Antiquities, Dr. Sabah Jasim, placed at our disposal a lab in which the work could be carried out. Most sherds weighed at least 10 pounds, and were about 3-5 centimeters thick. It took an entire room to lay on the pot, and several days to identify all the joins.
I was fortunate enough to have many wonderful BMC undergrads as my interns for the four seasons we worked on what we lovingly call The Big Pot. Lifting the pieces into place took at least two people. Because I'm only there for three weeks to 10 days at a time, we work long days to accomplish as much as we have. All the students also get a basic intro to conservation, and specifically field conservation. I have them do lots of exercising in looking, in detail, and noting condition issues. We talk about materials and preventive conservation: how to maintain an object through its environment and surroundings, which is particularly pertinent on an archaeological excavation in a country that is regularly well over 100° F. And with the big pot, they've gotten lots of hands on experience in ceramics conservation!
The first two years involved re-adhering the sherds: we use specialized adhesives, acrylic resins that have been shown to age well (they don't become brittle or yellow), and are and remain reversible over time. One of our main goals in conservation is that our interventions be reversible or retreatable.
Peter and I make treatment decisions together. He, as the archaeologist, plays the same role a curator would in a museum. How would he like the object to be viewed? What is most important for the viewer to understand about the object? His opinions guide my treatment proposal; we brainstorm. For example, the pot needed a structural fill- this means that for the integrity of the object, a large part of the pot needed to be filled in (we often use plaster).  In archaeology, we more often than not strive to make the condition of the object immediately identifiable to the viewer- you want your audience to understand that a jar was found in fragments and incomplete, but to simultaneously understand what shape the jar would have had-what the object actually is.
In the case of the Big Pot, we needed a structural fill, but I was also asked to consider that it would likely be on long term exhibition. i.e. the fill needed to look "integrated." I chose to do a plaster fill tinted with dry pigments, and poured the fill using a mold of the surface. This gives it the general color and texture of the pot, but on second glance, it is immediately apparent that it is not part of the piece. We also chose to not fill several areas where pieces were missing, it wasn't structurally necessary. This allows the viewer to see evidence of its construction by hand moulding slabs in the interior. As conservators, we like our work to fade into the background. It's the art that is important.