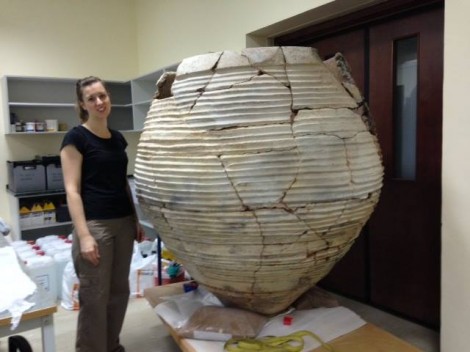 When Briana Feston '06 arrived at Bryn Mawr in the fall of 2002 planning to major in French and with a strong interest in theater and set design, she never would have imagined that less than a decade later she'd be working as an art conservator on a project to restore a "really big pot" at an archeological dig in the United Arab Emirates.
Recently completed, the pot is actually a 3000 year-old Iron Age storage jar and is the largest restored known prehistoric vessel from the region. It will soon be on display at Sharjah Archaeology Museum.
The jar was unearthed at Professor Peter Magee's on-going excavations at the ancient town of Muweilah, Emirate of Sharjah, in the United Arab Emirates, a project he has been working on in collaboration with the Sharjah Directorate of Antiquities since 1994. It was Magee that got Feston involved with this project and, along with Professor Jim Wright, interested in the field of archaeology and ultimately art conservation.
"I actually found archaeology during one of the open houses at the beginning of my freshman year," says Briana, who ended up with a double major in French and Francophone Studies and Classical and Near Eastern Archaeology. "One of the great things about Bryn Mawr is that it allows you to be open to a variety of experiences. My professors were always willing to allow me to combine opportunities to fit my interests.  I continued to pursue fine arts on my own, but academically, threw myself into archaeology."
While at Bryn Mawr, Briana participated in digs in Cyprus and on the island of Despotiko, in Greece, held an internship at the Museum of Cycladic Art and spent her junior year abroad in Paris, at the Ecole du Louvre, taking archaeology and art history classes in French.  During her senior year, she went with Magee to the UAE for the first time as part of a survey team for the site of Al Hamriya.
"By my senior year, I'd already decided to go into art conservation (the perfect blend of art, history, and science), and was working on requirements for my masters," says Briana.
She spent much of her senior year working with the conservators in the College's collections and then spent the three months right after graduation as an intern in the conservation labs at Colonial Williamsburg with funding through a Center for Visual Culture scholarship.
In 2007, Briana enrolled in New York University Institute of Fine Arts Conservation Center and started working for Magee as the conservator for his excavations.
"I was thrilled that Briana decided to study conservation upon leaving BMC, and throughout her training she continued to work with the project in the UAE, applying the lessons she was learning in the classroom," says Magee. "The 'big pot' stands as testimony not only to the ingenuity and perseverance of the people that lived in the UAE 3000 years ago, but also to Briana's fantastic career path from Fieldschool student to widely respected professional conservator."
Briana earned her master's in 2011 and, after stints at the Hirshhorn Museum and Sculpture Garden in D.C. and  Sevres-Cité de la Ceramique, is a graduate intern in Decorative Arts and Sculpture Conservation at the J. Paul Getty Museum in Los Angeles.
"Bryn Mawr was absolutely a formative experience for me," says Briana. "There are few places where you can wander into a professor's office and say 'this is my dream' and you walk out with a whole list of new ideas and avenues to pursue."
The Department of Classical and Near Eastern Archaeology trains undergraduates and graduate students in the archaeology of the Mediterranean and Middle Eastern worlds. The program is interdisciplinary and encourages students to take advantage of related offerings in Departments of Anthropology, Classics, Geology, History, History of Art, and the Program in the Growth and Structure of Cities.
Briana's participation in the field project is partly funded by  the Alwin C. Carus Funds which continue to support archaeological research within the Department of Classical and Near Eastern Archaeology.