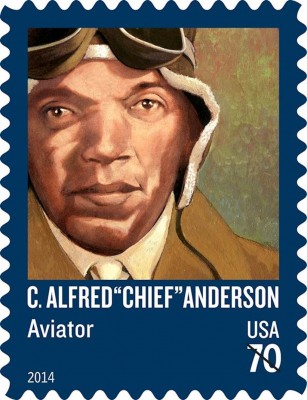 C. Alfred "Chief" Anderson, the father of black aviation and lead flight instructor of the Tuskegee Airmen, will be immortalized on a stamp during a First-Day-of-Issue dedication ceremony at 1 p.m. in Goodhart Hall this Thursday, March 13. The ceremony is free and open to the public.
Anderson, who passed away in 1996, was born and raised in Bryn Mawr.
Upon securing his pilot's license in 1932, Anderson was the only African American in the country qualified to serve as a flight instructor or to fly commercially. He then began breaking flight records and inspiring other blacks to become pilots. During World War II, Anderson served as the chief flight instructor of a flying school at Tuskegee Institute. To the Tuskegee Airmen who learned their piloting skills from Anderson, he was affectionately known as "Chief." During the war, the Tuskegee Airmen flew thousands of sorties in the European theater, destroyed more than a hundred German aircraft, and received scores of Distinguished Flying Crosses.
Anderson's granddaughter Christina Anderson and many surviving Tuskegee Airmen will be attending the ceremony.
"Bryn Mawr is proud to be a part of this event and to honor Mr. Anderson," says Bryn Mawr President Kim Cassidy.
The ceremony will be followed by an evening concert featuring singer Eric Roberson that will raise money for the C. Alfred "Chief" Anderson Legacy Foundation, which aims to raise money for youth scholarships and to preserve Anderson's legacy.
For more information, visit the foundation website.