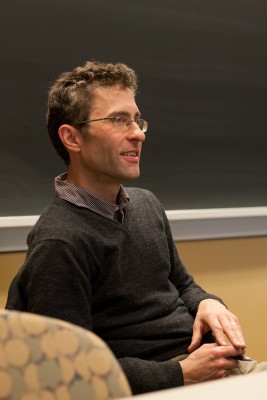 During the winter break, Russian Associate Professor Tim Harte traveled to Amsterdam to be part of a symposium on the Russian avant-garde in connection with an exhibition, "Kazimir Malevich and the Russian Avant-Garde," being held at the Stedelijk Museum in Amsterdam. In addition, Harte's book Fast Forward: The Aesthetics and Ideology of Speed in Russian Avant-Garde Culture, 1910-1930  was the subject of a presidential panel several weeks ago at the national conference of the American Association of Teachers of Slavic and East European languages.
"Although I'm not an art historian per se, my research and scholarship explores the conspicuous and quite vital intersection of the visual arts and literature at the beginning of the 20th century in Russia," says Harte. "It was a great honor to be invited to take part in the symposium at such a prestigious museum like the Stedelijk, which houses an impressive number of works by Malevich and other Russian avant-garde painters."
At Bryn Mawr, Harte teaches courses on the Russian avant-garde, silent film, Soviet & East European cinema of the '60s, Chekhov, and Nabokov, along with Russian language courses.
"In the Bryn Mawr Russian Department we provide students with a very solid basis in the Russian language along with in-depth knowledge of Russia's extremely rich cultural heritage," says Harte. "Our majors, particularly those participating in our Flagship Program, often achieve advanced proficiency in the language, which allows them to go on to Russian-related careers in government, law, business, and the arts."
The Bryn Mawr College Department of Russian offers an undergraduate program of study that has become nationally and internationally renowned. In addition to language courses at all levels, students have the opportunity to take a variety of courses in Russian literature, linguistics, history, cinema, and culture; department majors concentrate in one particular area of study. Thanks to its distinguished and distinctive profile, the Russian Department has received several grants in recent years, most notably a grant from the National Security Education Program (NSEP) at the U.S. Department of Defense to support in the Russian Language Flagship program, which focuses on the advanced study of Russian.