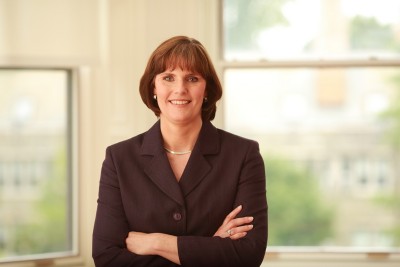 The Board of Trustees of Bryn Mawr College is delighted to announce that Kimberly Wright Cassidy has been named the ninth President of Bryn Mawr College, effective immediately.
Cassidy, who has been serving as Interim President since July 2013, has been a member of the Bryn Mawr faculty since 1993. Before her appointment to Interim President last year, she was the College's Provost for a six-year term. Previously, she was the Chair of Bryn Mawr's Department of Psychology. She earned her master's degree in psychology and Ph.D. in psychology from the University of Pennsylvania and earned a bachelor's degree with distinction in psychology from Swarthmore College.
During her tenure, Cassidy has been instrumental in leading the College's commitment to curricular innovation, emphasizing science and mathematics, and advancing programs to more closely connect liberal arts studies to career paths and graduate pursuits. Specifically, as Provost, Cassidy collaborated with faculty leaders in a comprehensive review of curricular requirements resulting in the implementation of critical support for ensuring quantitative skills, strengthened writing requirements, and refocused distributional coursework to emphasize distinct analytical approaches.
Arlene Joy Gibson '65, Chair of the Board of Trustees of Bryn Mawr College, stated, "We are delighted to have Kim as our new President of Bryn Mawr College. Since joining the faculty of Bryn Mawr in 1993, she has distinguished herself as a strategic and forward-thinking leader, an open and effective communicator, and a tremendously positive agent of change. She has deep experience across all aspects of learning and higher education, and truly embodies the core tenets of Bryn Mawr – scholarship, academic excellence and service to the community."
Gibson continued, "Today, Kim is taking the helm of an institution which is appropriately recognized as an outstanding liberal arts college – one with purpose and ambition, a culture that promotes fulfillment and joy in learning, and one that fully values diversity, access and community. We are so pleased that she has accepted this appointment, and with Kim firmly at the helm, we are confident in – and energized by – what lies ahead for Bryn Mawr."
Cassidy said, "We are at an exciting and pivotal time for Bryn Mawr and I couldn't be more thrilled to play a part in the College's bright future. Over my more than 20 years as part of this community, I've come to respect and love Bryn Mawr and the values the College has stood for throughout its long and rich history. We will continue to instill in our students intellectual curiosity and independent thinking through a creative and rigorous curriculum that promotes intellectual and personal growth. Bryn Mawr has built an incredible foundation, a clear mission and strong community and I am confident Bryn Mawr will continue to be a vibrant and leading force in higher education."
Ann Logan, Co-Chair of the Leadership Working Group, commented, "This has been a careful, inclusive and comprehensive process – spearheaded by the Leadership Working Group – to identify the candidate best suited to lead this great institution through the opportunities and challenges ahead. Although we considered many very qualified individuals, Dr. Cassidy was the clear choice. She embodies all of the key attributes of the ideal leader for Bryn Mawr and we are looking forward to taking part in her vision for the College's future."
About Bryn Mawr College
Founded in 1885, Bryn Mawr College is known as one of the world's most distinctive and distinguished institutions of higher learning. The College's commitment to excellence and the highest academic standards is reflected in its high-ranking women's undergraduate school, as well as its two highly-regarded coeducational graduate schools and coeducational post-baccalaureate premedical program. Each year, more than 1,300 undergraduate women and 400 co-ed graduate students from around the world gather on the College's historic campus to study with leading scholars, conduct advanced research, prepare for diverse careers and leadership roles and expand the boundaries of what's possible. Bryn Mawr is a strong academic partner on both the local and global level, providing students and faculty with enhanced opportunities through the College's membership of Pennsylvania's Tri-College Consortium (with Haverford College and Swarthmore College), its collaboration with the University of Pennsylvania, and its affiliation with leading educational and research institutions around the world.