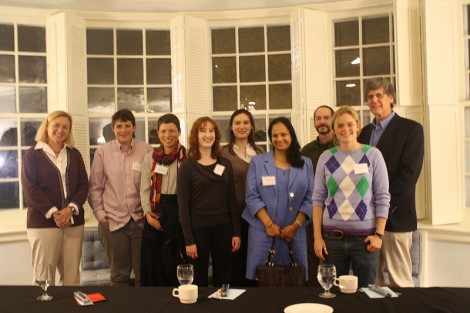 Throughout the year, Bryn Mawr's academic departments and various student groups invite alumnae back to campus to give current students a sense of the diverse paths their degree might take them.
The Bryn Mawr chapter of the Society of Physics Students recently welcomed back to campus Padmini A. Menu '98, Emily Gallagher '85, Mary Kutteruf '03, Sarah Marie Kelsall '06, Jessie Carrigan Rosenberg '04, and Kerstin Nicole Nordstrom '04.
Three members of the group — Rosenberg, Nordstrom, and Kutteruf — are currently working as researchers, although each in a different sector. Rosenberg is a post-doctoral researcher at IBM, Nordstrom is a faculty research associate at the University of Maryland, and Kutteruf is a researcher at the Naval Research Lab.
Kelsall and Gallagher have both found careers in the private sector.  Kelsall is employed as an electrical engineer and Gallagher as a senior technical staff member at IBM.
Proving the versatility of any Bryn Mawr undergraduate degree is Padmini A. Menu, who went on to law school and now manages the contracts department for a healthcare company.
"Very few people in law school come from a science background," said Menu at the panel. "But the intellectual training I received as a physics major, having the ability to take a complicated issue or topic and break it down into its simplest components, has helped me throughout my schooling and career."
And while most of the panel pursued a physics-related career, they all talked about the value of their liberal arts education.
"No matter what you do, the ability to communicate is going to be a big part of your job," said a panelist.  "Bryn Mawr can prepare you to be a good writer and communicator if you seize the opportunity, so seize it."
"We so enjoyed meeting with these alums," says Professor Elizabeth McCormack, chair of the Physics Department. "They've done terrific things since leaving Bryn Mawr and had great advice to share with our current students about what is possible with a Bryn Mawr degree."
For more about Bryn Mawr's Physics Department, visit the department website.