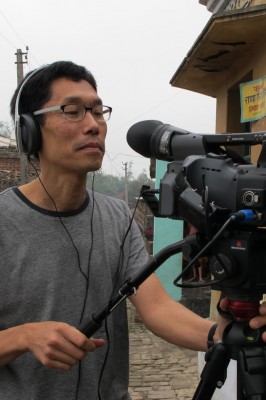 The Film Studies Program at Bryn Mawr College provides students with opportunities to study the history, theory, and criticism of moving images, with an emphasis on the analysis and interpretation of cinema as a key form in modern visual culture.
On Monday, Feb. 10, the program, along with the 1902 Lecture Fund, Gender & Sexuality Studies, and the History Department, welcomes video artist and cultural critic Richard Fung to campus. The event takes place at 3 p.m. in Carpenter Library, room B21.
Fung will be showing three short videos that exemplify intertwined threads in his video practice: autoethnography, queer historiography, postcolonial critique, and media analysis. There will be a long Q&A with the director after the screening.
Assistant Professor of English and Film Studies Hoang Tan Nguyen calls Fung's videos and essays–which touch on subjects including colonialism, immigration, racism, and homophobia–landmark pieces of criticism in Asian American studies and gender and sexuality studies.
"In my courses, we often study many Hollywood films that students know and love. However, I also make it a point to expose students to various schools of filmmaking that they are not as familiar with," says Nguyen. "For example, this semester in Introduction to Film, we're looking at the Oscar-nominated political documentary The Act of Killing as well as the wildly popular Korean television series Coffee Prince."
Nguyen teaches and writes about queer cinema, experimental film, Asian American visual culture, video production, race, and new media. His experimental videos have screened at the Museum of Modern Art, the National Museum of Modern Art at the Pompidou Center, the Getty Center, and numerous film and media festivals. Courses he's taught include Race and New Media, Global Queer Cinema, and The Politics of Pleasure: Asian American Film, Video & New Media.
"I love the opportunity to bring world-renowned filmmakers to Bryn Mawr to screen their films and talk about them with students," says Nguyen. "For many students, it's the first time they get a chance to meet and interact with actual filmmakers. Learning about a filmmaker's creative process provides crucial insight for students. The 'inside' information that they get about a particular film's production, exhibition, and reception expands and complicates their interpretation of the finished film. I'm especially excited about the upcoming visit of Richard Fung to BMC. He is a personal hero of mine. Richard's creative and critical work inspired my own research on Asian American masculinity and visual representation. He is an extremely charismatic speaker who will engage and inspire students to see the intersection of race, sexuality, and the cinema in exciting, new ways."
For more about Nguyen, visit his faculty profile.
More about Richard Fung's visit will soon be available on the College calendar.