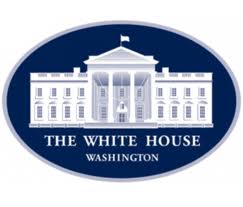 Bryn Mawr College Interim President Kim Cassidy joined President Barack Obama, First Lady Michelle Obama, and an invited group of approximately 150 higher education, government, philanthropic, and business leaders today for a White House summit on increasing college access and completion rates for students from low-income families and underrepresented minority groups.  Bryn Mawr was invited to participate because of its demonstrated commitment to and success in developing programs to address this critical national issue.
At present, students from less advantaged backgrounds lag behind their wealthier peers in both college enrollment and in college completion.
The National Center for Education Statistics reports that in 2011, the immediate college enrollment rate for high school graduates from low-income families was 52 percent—30 percentage points lower than the rate for graduates from high-income families and 14 percent lower than the rate for graduates from middle-income families. Once enrolled, low-income students continue to face challenges. A 2011 Pell study showed that only 19.5 percent of Pell Grant recipients enrolled in any postsecondary institution in the fall of 2003 went on to earn a bachelor's degree within six years compared to nearly 37 percent of all non-Pell Grant recipients.
Participants in the summit will share ideas, learn from peers, and catalyze additional change at their institutions and others.  Among the programs that Bryn Mawr has launched in recent years are the College's partnership with the Posse Foundation, including its new, second Posse focused on students interested in STEM (Science, Technology, Engineering and Mathematics) fields; its Community College Connection program begun in 2011; and instructional programs that address needs of underserved students.
"Bryn Mawr was founded to provide women with access to the best possible university education at a time (1885) when it was denied to them.  Expanding educational opportunity of the highest caliber for women of all backgrounds remains a core element of the College's mission," says Cassidy.
Among those joining Cassidy at the summit is Deborah Bial, head of the Posse Foundation.
The Posse Foundation identifies public high school students with academic and leadership promise who may be overlooked by traditional college selection processes. Posse extends to these students the opportunity to pursue personal and academic excellence by placing them in supportive, multicultural teams—Posses—of 10 students. Posse partner colleges and universities award Posse Scholars four-year, full-tuition leadership scholarships.
Bryn Mawr has hosted a Posse since the fall of 2001, and this year increased its participation by adding the first-ever "STEM Posse" at a women's college.
"At Bryn Mawr, our Posse Scholars have flourished," says Cassidy. "The most recent alumnae of our Posse program graduated at a rate of 100 percent in four years, and Posse Scholars have a great track record of holding key leadership positions on campus. Our STEM Posse will work to extend that success into STEM fields. While American higher education continues to struggle to achieve ethnic, racial and socioeconomic diversity, Bryn Mawr has an excellent track record of attracting and retaining high-achieving women students from diverse backgrounds in its STEM programs."
Bryn Mawr's STEM Posse program is offering students innovative curricula, early research opportunities, and comprehensive mentoring and leadership development.
Bryn Mawr's early success with its Community College Connection program is also of interest to White House summit organizers.
The Community College Connection was launched in 2011 with funding from the Jack Kent Cooke Foundation as a partnership between Bryn Mawr and two local community colleges to create a pipeline for high-achieving, low-income community college students to transfer to Bryn Mawr.
"We've had such success with this program that we plan to open it up to students from all two-year institutions across the country," says Cassidy. "Like the Posse students, our transfer students have done incredibly well in the classroom and have been a positive influence to the campus culture."
In addition to the above programs, the College was also cited for its ongoing efforts to provide access to students from all socioeconomic groups through its admissions policies and efforts.
Noted specifically were Bryn Mawr's ten-year Pell Grant enrollment average of 17 percent and the College's collaboration with College Match, a program that gives female high school students in the Los Angeles public school system a chance to visit Bryn Mawr and to participate in college readiness workshops.   In marked contrast to national completion rates noted above, 82 percent of low-income students graduate from Bryn Mawr within six years of enrolling.
"The most important things we can do are to make the commitment that all talented students, regardless of their socioeconomic background, have the same opportunities to attend and succeed at Bryn Mawr and other colleges and universities, and to work with high schools and organizations like Posse to make sure all students with the potential to succeed are considered for admission," says Cassidy.