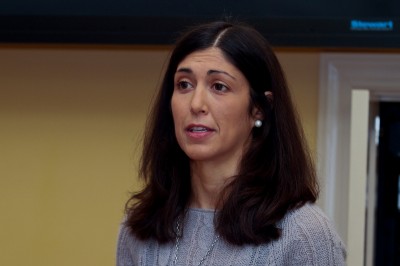 Katie Krimmel recently marked three months since coming on board as the director of Bryn Mawr's new Leadership, Innovation, and the Liberal Arts Center (LILAC). Bryn Mawr Now sat down with Krimmel to talk about the Center and her plans for its future.
What is LILAC?
The Leadership, Innovation, and Liberal Arts Center is both a reorganization of existing programs on campus and an effort to greatly enhance the opportunities available to students for their professional and personal development. Of utmost importance is ensuring that students' rigorous liberal arts educations are meaningful and relevant in whatever fields they choose to pursue. LILAC provides opportunities for students to explore and understand their values, strengths, and interests both in and out of the classroom.
What sort of reorganization has already taken place as a result of LILAC, and what do you have planned for the near future?
The big thing was to bring Career and Professional Development and Civic Engagement together under the umbrella of LILAC. We are working on integrating the teams and educating each other on how we can work together and build common goals across the two functions. We are also looking to make sure that people's current roles support the goals of the Center. In addition to finding the synergies that exist between Career and Professional Development and Civic Engagement, we are working to define a set of competencies that will help us integrate and coordinate how we present student opportunities and programming across multiple departments and areas on campus.
Can you give an example of how you hope to enhance what's already in place?
We're going to hire an associate director of internships and work experience, and among the things we see the person in that role doing is developing more internship opportunities for students and helping students reflect more deeply on their internship experiences. When we talk to students about their internship experiences it's often, "I did this, this, and this." What we want to do is to start having conversations with students about what they learned about themselves and how they can apply that to future opportunities inside and outside of the classroom. It's that next step of reflection that doesn't really happen without some sort of structured prompting.
When you talk about connecting the skills gained while at Bryn Mawr to post-graduation plans, what are you referring to?
When you look at the skills employers are looking for—strong written and verbal communication, working in a team environment, critical thinking, making decisions, and problem solving—they correlate very closely to the skills developed through a liberal arts education. Oftentimes it's just a matter of helping students articulate those skills and realize just how much they have to offer.  If students have these skills, but are not confident in their abilities, they are not presenting their best selves. In the Job Search Boot Camp that we ran in the summer and fall, we noticed a huge change in the pre-/post-test values when we asked how confident the students were about finding a job they would love. Running programs that boost students' confidence in themselves and their abilities is important.
And how about connecting the values developed through a liberal arts education to what students do after graduation. What can you say about that?
We want to set up opportunities for students to think very deliberately about their value systems and how those values might translate into the work they do. We also want to help students think about how those values make them an asset for graduate school or employers. Providing opportunities for students to explore their strengths in meaningful ways helps them make purposeful decisions about their futures and the types of work that will be fulfilling for them. We recently had Richard Shell, author of the book Springboard: Launching your Personal Search for Success, come and talk to a group of 50 students. This book encourages students to think about their passions, principles, and purpose. This is also an area where I think having alumnae come in and talk to students can be especially powerful because they tell students about the twists and turns that existed in their own paths and students really relate to the stories they share.
Sticking with the topic of alumnae engagement, what can you tell me about BMC Direct Line?
It's an entirely new platform that's focused solely on connecting Bryn Mawr students to alumnae, with the goal of helping students navigate their post-Bryn Mawr plans. The Alumnae Association has worked hard to get 400 alumnae on board already and the Center is asking all seniors to participate in an informational interview training session so that they know how to have these conversations with alumnae and how to use the system. We had used Athena's Web in the past but that's not really a system that was built as a mentoring tool. This new platform is something where, by opting in, the alumnae participating are making it clear that they want to provide this support. We think it's going to be a wonderful resource for students. One of the really neat things about Direct Line is that it connects people through a conference call line. Email can be great but doesn't allow for the sort of engaged back and forth of a phone call.
Will LILAC be involved at all with on-campus employment?
We will. We have students who are gaining valuable skills and experience working right here on campus and we can do a much better job of getting students and on-campus employers to reflect on the skills and competencies being gained, and about how to highlight those as they move on to other opportunities. Again this is something that many people on campus have been interested in but it's never been explicitly part of someone's job to look at the overall experience.