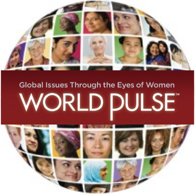 Activist Neema Namadamu, who visited Bryn Mawr this September, calls her homeland in the eastern region of the Democratic Republic of Congo (DRC) "one of the worst places in the world to be a woman," yet it remains an area that much of the world knows little about.
The students in Agnès Peysson-Zeiss' Praxis III French course are hoping to help improve this lack of awareness as they partner with World Pulse, an online media network Namadamu is a part of, to broadcast first-hand accounts of life in the DRC by women who live there.
This fall, the seven students in the Praxis course are each translating five blog posts from French to English every two weeks for World Pulse's PulseWire, an online community of citizen journalists and bloggers. The posts come from Congolese women who are working from a media center opened in April 2013 by World Pulse and Namadamu's organization Maman Shujaa (Hero Women) of Congo.
The course came about somewhat serendipitously, explains Peysson-Zeiss.
Trained in 19th- and 20th-century French and Francophone literatures, Peysson-Zeiss had recently become interested in the graphic novels from two countries in which genocide has occurred: Cambodia and Rwanda. She began to look more broadly at the graphic novel art form in other French-speaking areas that have experienced wars and massacres, such as the DRC.
"I had a conversation with Nell Anderson about a possible Praxis course, and she brought up World Pulse," says Peysson-Zeiss. "The more we looked into it, the more connections we were able to make in terms of curricular needs, research interests, and the interest of students to provide some form of service to this part of the world."
Scott Beck, an online community manager at World Pulse, notes that the Praxis course represents the first time the organization has partnered with a class in this way. "The work of Agnes' students is so important to helping support our mission of connecting women around the world to accelerate change," he says. "Through their translations and comments, the students are bringing women in the eastern DRC a global voice and building a global network of support."
From a curricular standpoint, Peysson-Zeiss saw Praxis as an opportunity to teach students valuable translation skills. "Translation is not transcription," she says. "It's an art form; translators have to take into account cultural contexts and regional nuances."
Each week the class gets together to collectively untangle particularly difficult passages. "'Il' is where the problem lies," Peysson-Zeiss tells students at one meeting while going over a passage in which the use of the pronoun doesn't correspond with the sentence's verb conjugation. "Does 'kept on a leash' mean the same as a 'kept woman?'" she asks at another point.
"Often the translation is difficult because French is not the first language for many of these Congolese women," says Lianna Reed '14 "But then there are the posts that are written so poetically and in the most impeccable French. My eyes filled with tears as I read about the woman who suffered trial after tribulation to finish law school and become a public defender for women's rights."
A political science and French double major, Reed first became interested in the plight of Congolese women in an international politics course she took at Haverford during her freshman year, and this summer landed an internship at the Carter Center in Atlanta, where she worked on a project focused on the DRC's mining governance.
"Often what is lost when the DRC is talked about or researched are the uplifting stories and the passionate voices," Reed says. "As translators for World Pulse, we are not only privy to the atrocities that have occurred in the eastern parts of the DRC, but also to the success of the Maman Shujaa center. We are able to help facilitate these voices so that all sides of this beautiful country can be heard."