Note: This post has been updated with information about the memorial service being held on Saturday, April 5, at 3 p.m. in the Goodhart Hall music room.
The College continues to welcome your remembrances of Professor McKim-Smith in the comments section below or on our Facebook page.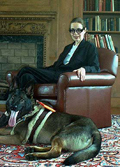 Dear Faculty, Students and Staff,
Last month I wrote with the very sad news that Gridley McKim-Smith passed away on Friday, October 19th after a brief acute illness.  I write again to share more about her distinguished career as well as plans for a memorial service to be held this spring on campus.
Professor McKim-Smith received her B.A. from Tulane University in Romance Languages and Literatures and her M.A. and Ph.D. in Fine Arts from Harvard University.  She came to Bryn Mawr College in 1982 as an assistant professor, was named associate professor in 1985 and full professor in 1992.  For many years, Gridley served on the Advisory Accessibility Committee and was also active on the Library Committee.  In 1998, she received the Christian R. and Mary F. Lindback Foundation Award for Distinguished Teaching and in 1999 was honored with an endowed chair as the Andrew W. Mellon Foundation Professor in the Humanities.
Among the foremost Hispanists of the United States, Gridley pioneered contributions to the scholarship of the art of Baroque Spain as well as of the Spanish-speaking world.  A significant portion of her scholarship concentrated on the implications of scientific examinations of 17th-century Spanish paintings, particularly works by Velazquez.  Her broad scholarly interests and more recent research also included work on the history of the body through the study of costume and on the polychrome sculpture of Latin America.
During her career, Gridley authored numerous books and articles, with many recent articles focused on dress in colonial Spanish America.  Her most current work, "Dress in Colonial Spanish America," will appear in the Lexikon of the Hispanic Baroque: Technologies of a Transatlantic Cultural Transfer, to be published by the University of Texas Press in January 2014.  In 2010, she published the catalog for an exhibition on Spanish Painting and Sculpture from 1600-1700 at the National Gallery in London.  Her book, Examining Velazquez, published in 1988, was the first winner of the College Art Association /Heritage Preservation Award for Distinction in Scholarship and Conservation.
Gridley was a wonderful teacher, a supportive advisor and a valued mentor to generations of undergraduate and graduate students.  She was the supervisor of numerous M.A. and Ph.D. theses.  One of her colleagues notes that "Even though she taught less over the years, she continued to work with just about every one of our students."  Gridley taught a wide variety of courses that were valuable not only to the History of Art department and the Graduate Group in the Humanities, but also to our interdisciplinary programs in Latin America, Latino and Iberian People and Cultures (LALIPC) and Gender and Sexuality Studies.  In recent years, she converted her longtime course, HART 241, "The Art of the Spanish-Speaking World," into two new courses – a re-named HART 241 "The Visual World of the Spanish Empire 1492-1800" and HART 242 "Material Identity in Latin America 1800-present."
Associate Professor of History Ignacio Gallup-Diaz, her colleague in the LALIPC program, recalls: "Gary McDonogh and I, when offering the "Intro" course for the Latin American, Latina, Iberian Peoples and Cultures concentration (LALIPC), invited our colleagues in the program to provide guest lectures throughout the semester.  Gridley provided an expertly-crafted talk that explored the complex relationship between Spain and the Americas, something that she shared with the students through a series of 'close readings' of images that she provided.  Her presentation was patient and rigorous, and she engaged the students (and Gary and me) in a fascinating conversation about how the study of Spanish art has been enriched by changed perspectives about the art made in the Americas.  She taught us how scholars have moved away from viewing artists in the Americas as provincial figures — lesser practitioners in forms 'perfected' in Europe — to craftsmen working in a mutually shared idiom.  I came away from that class session with several conclusions: I knew that the students had greatly benefited from Gridley's presentation of information; that I had learned a lot myself; and that I had just observed a masterful teacher."
Dale Kinney, a longtime colleague and Eugenia Chase Guild Professor Emeritus in the Humanities, remembers Gridley's style: "When she joined the faculty her MS was not yet visible; she was a beautiful, seemingly carefree woman.  Her husband Frank was a photographer; they had an apartment in New York, friends in the art world and a busy life.  It all seemed glamorous.  Fate and the disease took almost everything away from her, but through all the tragedies and afflictions she kept her impeccable style.  I think it helped her rise above the pain and indignity of illness and to be what she always was: her own person, able to accomplish what she wanted and more than most people who have no such difficulties to contend with.  It was an awesome performance."
It is hard to capture in words the significance of the loss of Gridley.  She exemplified the scholar-teacher model, cared deeply about her students and worked tirelessly to promote the excellence of the College.  She will be deeply missed.
Gridley's family will gather next week in Florida to celebrate her life.  Details of the service, as well as information on contributions in her honor, can be found in this obituary from the Havana Herald.
The College will hold a memorial service for Gridley on Saturday, April 5, 2014, following the conclusion of a celebration marking the 10th anniversary of the Graduate Group.  Plans for this event will be available in the spring.
With best wishes,
Kim Cassidy
Interim President